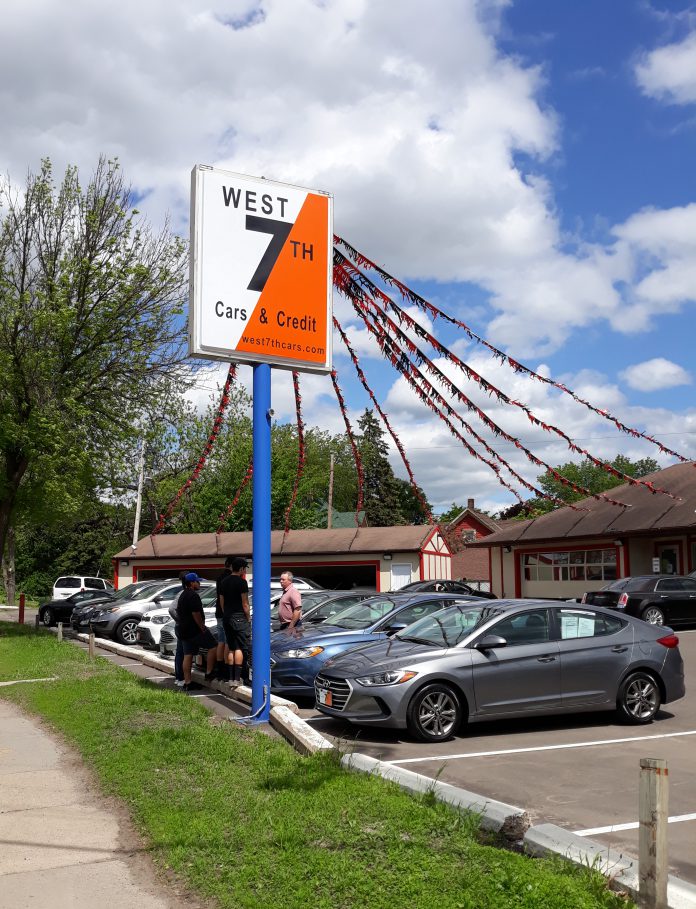 by Jerry Rothstein
After a major rehab of the old used car lot at West 7th and Jefferson the place sat empty for more than a year, but last December a small selection of vehicles appeared and West 7th Cars & Credit began its West End business.
The parent company — University Auto Sales — has locations in Maplewood, Burnsville, Richfield and on Robert Street on the West Side. The West 7th location has been long in the planning, and attention has been directed to the needs of our particular market niche.
We spoke with General Manager Steve Rosenthal and sales/finance expert Scott Kleberg about what it takes to gain a community's trust in a business that does not automatically have it.
One answer was apparent looking around the lot, which holds a selection of 20-25 well-prepared and detailed autos in a variety of models. The inventory is rotated regularly from a supply of 100 to 125 vehicles in the system. Cars are acquired by trade-ins, lease/rental returns and auctions, and West 7th is emphasizing that it also makes direct purchases from owners, even if they do not plan to buy another car.
To that end, one of the useful resources they offer is their free online appraisal system, which can give the owner a figure to work with for either trade or direct sale. As the supply of quality used cars is tight, West 7th is actively pursuing the purchase option.
An understanding of our neighborhood has helped West 7th to aim for a reasonably-priced inventory with financing options to get to affordable payments. They emphasize financing for all — regardless of past credit — and work with a variety of credit unions and others lenders that currently may result in rates as low as 2.99%. All their cars are inspected and repaired by Bonfe's right in the neighborhood.
They will help buyers get the vehicle history report and have access to three types of extended warranty/service contracts. They are not a "one price only" type of dealer, but will always work to make a good deal.
Steve has been in the car business for 27 years. Scott's 30–year career has mostly been in banking and finance. They invite people to drop in, have a chat, check out the inventory — whether or not there's a purchase in mind. Much of their success comes from repeats and referrals, and a visit is a good place to start.
West 7th Cars & Credit, 834 West 7th, 952-460-3201: west7thcredit.com. Hours Mon-Thurs 9am-7pm; Fri-Sat 9am-6pm; Sun closed.