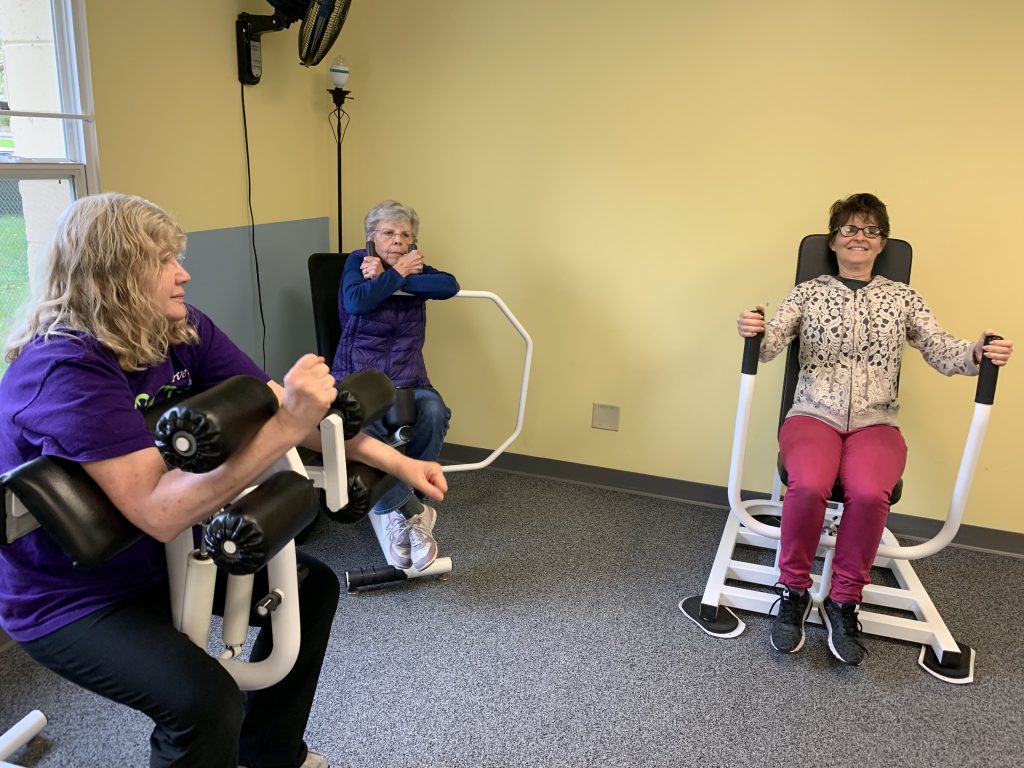 by Jerry Rothstein
Amidon Graphics is one of the West End's hidden enterprises. Over its 65 years the commercial printer has developed as a sophisticated resource for complex printing needs. In a future issue, we will delve into that fascinating operation.
Three of Amidon's owners — Patty, Karen and Sue — have long been involved in fitness. In addition to running dozens of marathons, they belonged to the nearby Curves for Women franchise. That center changed into Sue's Fitness on Snelling Avenue.
When Sue's came up for sale, serendipitously, Amidons were winding down their day care center, so space opened up at their facility. Not wanting the club to close, the Amidons decided to buy it, move it to the available space, and offer it to continuing members as well as to Amidon's employees (numbering around 90). Many members chose to come along because of Sue's unique approach. They foster an active and supportive atmosphere that to many had become much more than an exercise place. Many of them have exercised together for years, and newcomers are welcomed.
In 2016 the space was readied for a July opening with new equipment in light, spacious rooms. They offer very reasonable membership fees and member reimbursement from some insurance plans, and accept Silver Sneakers and Silver & Fit. At this point there are around 75 active members.
Sue's Fitness utilizes PACE positive resistance machines. This hydraulic system is an interval circuit program that combines strength and cardiovascular training in a 30 minute format. Hydraulics are easy on the joints and respond to the user's level of effort. A stretching routine follows the circuit.
Sue's Fitness staff members provide training in correct use of the machines and static stretching techniques. Other equipment includes treadmill, elliptical, plus recumbent and upright bikes, with new machines in the works.
What differentiates Sue's Fitness from the many options now available seems to be a matter of pace and pressure. Members work at their own pace, with constant support and guidance available from staff (and other members as well). The hydraulic machines are quiet, and coupled with the comfortable atmosphere, help to provide a relaxing background. There is no high pressure, only encouragement. Memberships are available for both men and women.
Sue's Fitness is located at 1984 Benson Avenue in the Kipp's Glen historic neighborhood. Call 651-666-5788 to arrange a free trial visit. Monday-Thursday, 8am-8pm., Friday 8am-2pm, Saturday and Sunday, 9 am-1pm. Also included: Yoga and Stretching class on Tuesdays 10am-11am and Zumba with Weights on Wednesdays 5-6pm.