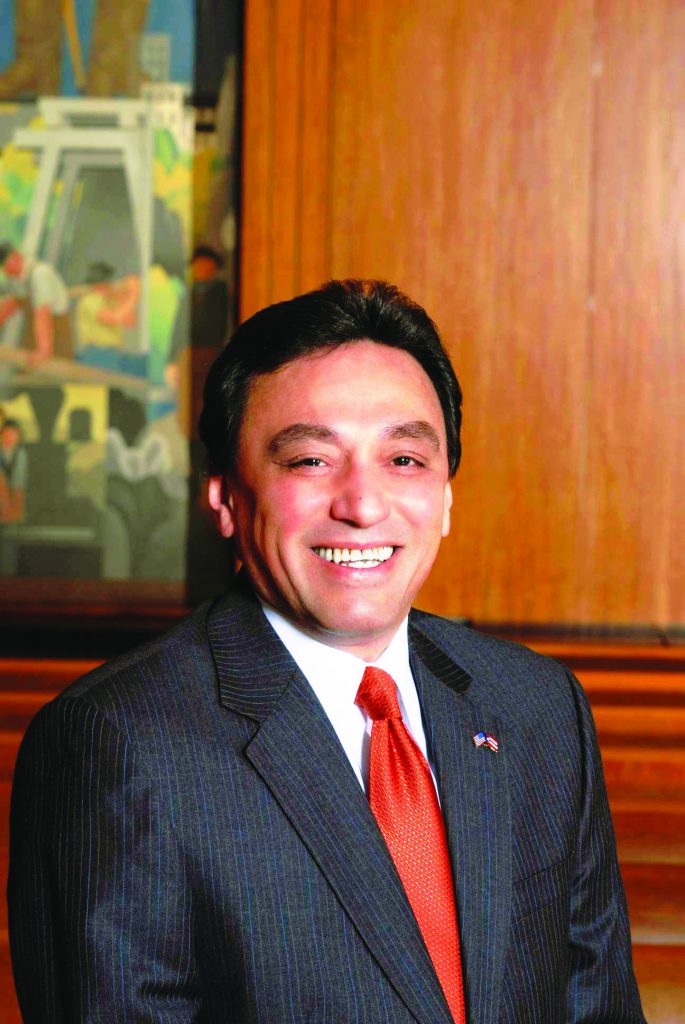 By Rafael Ortega, Ramsey County Commissioner
For many of us, the upcoming holidays will be filled with family celebrations and cherished time with loved ones. This holiday season, the homes of Ramsey County foster care youth who have found their forever families will be filled with even more laughter, love and celebration.
On National Adoption Day November 17, Ramsey County celebrated 22 adoptions that took place on this day. And with those finalized earlier in 2018, a total of 100 Ramsey County foster care youth found their forever homes this year.
Each National Adoption Day is joyful and momentous, but this year is particularly notable because many of the youth were adopted as sibling sets, and the majority were adopted by their own blood relatives. This shows the great lengths that our child foster care and adoption workers go to ensure that families stay together whenever possible.
And while it might seem obvious or simple to do it that way, there is often a lot of work and preparation to make sure it's a successful connection. I myself have worked to make these connections and bring families together and it can be hard work. But the payoff of a loving supportive family that understands the child is so big, it's totally worth it.
While there was much to celebrate last weekend, the reality is that the need for youth foster care homes in Minnesota has increased 12 percent this year alone. Today in Ramsey County, there are more than 1,110 youth currently in foster care and 312 waiting for their forever homes.
In response, Social Services has made an intentional effort not only to increase the number of licensed foster homes, but also to find the right homes that meet the unique needs of the children, whether for language, cultural or religious reasons. To do this, Social Services has worked to engage the broader community by contracting with local organizations to find culturally connected foster parents within the African American and Native American communities. Additionally, they have increased connections within the LGBTQ2S and Gender Non-Conforming communities by participating in events like Pride and becoming the first agency in Minnesota to receive the Human Rights Campaign's All Children-All Families Seal of Recognition.
Keeping children together with their birth families is almost always our desired goal and what we are mandated to try to do by federal and state policies. Once it is determined through the judicial process that children cannot return to their homes, according to national statistics they can spend an average of two years waiting for adoptive families in foster care. I'm confident that our continuing efforts to engage people of all backgrounds in becoming foster parents will result in more children who are available for adoption, finding forever families quickly, and spending less time in foster care. This will lead to healthier children, families and communities in Ramsey County.
Successful adoptions can't happen without a network of committed foster care providers. Earlier this month, we recognized their vital role at our annual Adult and Child Foster Care Appreciation Luncheon. Our social workers and foster care and adoption staff also deserve accolades for finding temporary and permanent homes for children and adults in need. Their commitment to placing children and adults in safe and loving homes is essential in creating a thriving community.
If you know someone who may be interested in becoming an adult or youth foster care provider or adoptive parent/family, please encourage them to visit the links below to learn more. And may all of you, whatever your family situation, have a wonderful holiday season.
• Child Foster Care ramseycounty.us/residents/assistance-support/support-families/foster-care
• Adult Foster Care ramseycounty.us/businesses/licenses-permits-inspections/licenses-inspections/adult-foster-care-licensing
• Ramsey County Adoption ramseycounty.us/residents/assistance-support/support-families/adoption