By David Lamb
Across the city and the state, COVID-19 vaccinations rates are exceeding expectations, with more than 43% of Minnesotans having received at least one dose when this newspaper went to press. The competition for appointments remains fierce, however—and the results inequitable, with vaccinations of Black residents lagging the population across the state by 35%.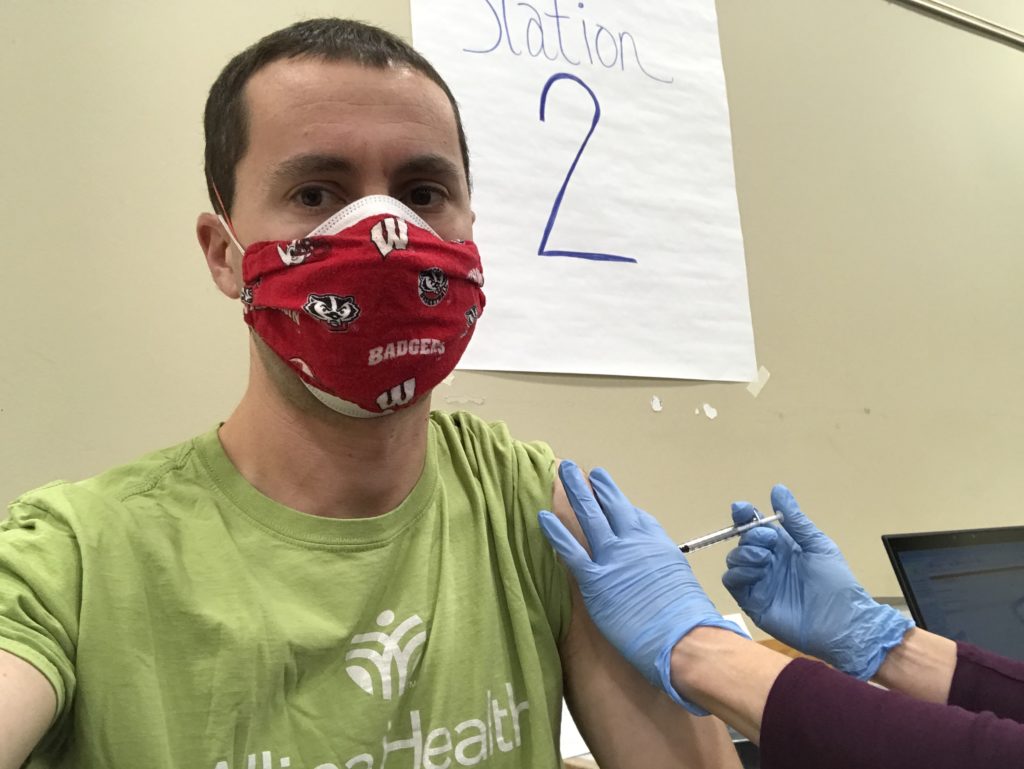 Get Your Appointment 
Vaccines are available for all people 16+ years of age through several sources: primary care providers such as the Allina Health and Fairview clinics as well as the United Family Medicine Clinic (1026 W. 7th); drugstore chains; and the Minnesota Department of Health's large-scale sites at the Mall of America and the State Fairgrounds. 
A few key resources can help you find an appointment. Registering on vaccineconnector.mn.gov puts your name on the state's waiting list for a vaccine, allowing you to be notified as soon as an appointment becomes available at one of the Department of Health's sites. For those willing to invest time to more quickly find a vaccine, a private Twitter account, @MNVaccineAlerts, sends out automated tweets whenever a new appointment becomes available at a pharmacy in the state. Another website, vaccinespotter.org/MN/, offers a map of all available drug store appointments. 
Vaccination Options
The FDA lifted its temporary suspension on the use of Johnson & Johnson's single-shot vaccine on April 23, making three vaccines once again available: Johnson & Johnson's, Pfizer-BioNTech's and Moderna's. They have each proved effective in helping to prevent contraction of COVID-19, particularly in avoiding severe cases of the disease, which are extremely rare for those who have been fully vaccinated. "[N]o one dies of it," said Dr. Leo Yee Sin, a government COVID expert in Singapore. "Almost everyone is asymptomatic…[so] we have converted the disease from a bad critical illness to that of a mild cold.
Scientists generally recommend taking whichever vaccine is available to you and fits in your schedule. 
Although Minnesota has one of the lowest rates of vaccine hesitancy in the US—and Ramsey County, in turn, one of the lowest hesitancy rates in the state at 11%, according to the CDC—misinformation continues to suppress vaccine adoption. 
In particular, many believed the recent pause in the use of Johnson & Johnson's vaccine suggested it was unsafe. It is true that the pause was related to a finding that six women out of the nearly seven million people who had received the vaccine across the nation experienced dangerous blood clots. But blood clots remain far more common among those who go unvaccinated and contract the disease, appearing in as much as 20% of infected patients according to a study last year conducted by researchers at the University of California, San Diego. Federal regulators opted to pause the Johnson & Johnson vaccinations not because it was inherently dangerous but rather in order to allow health-care workers several weeks to share best practices for responding to the rare blood-clotting condition, which can be treated