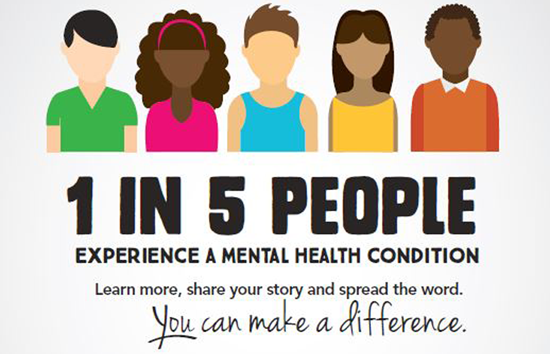 by Riley Karbon, Director of Advancement, United Family Medicine
Sue (name changed) came in recently to United Family Medicine (UFM) for a routine diabetes management appointment with her primary care doctor. She had experienced anxiety on and off for a few years and was on medication that had been working. After checking on her insulin management, Dr. Julia (name changed) asked how Sue was feeling these days. Sue shared that she had been having more anxiety lately, even a few panic attacks, and had to stay home from work because of them. Managing her diabetes had also been stressful and worsened her anxiety. Dr. Julia asked more about this and listened to Sue talk about feeling overwhelmed and inadequate in her new job with greatly increased responsibility.
After hearing about her struggles, Dr. Julia was able to bring in Paula Coyne, a psychologist and member of UFM's Behavioral Health Team to spend time with Sue and to walk through some breathing exercises to use when she's feeling panicked. Sue left with calming tools, adjusted anxiety medication and a follow-up appointment scheduled with Paula the next day to get support with behavioral changes to help her anxiety. Sue came for a total of three appointments with Paula and is now "feeling back to her normal self" and has been able to take her medications more consistently and meet her goals on diet and exercise.
This model is called Integrated Behavioral Healthcare and is an emerging model of caring for patients. When a patient comes in for diabetes care or a knee injury, their depression or PTSD comes too. Physical and mental health are not separate fields. "We want to treat the whole person in the same place, the same clinic," says Dr. Tim Rumsey, a primary care provider at UFM.
Integrated Behavioral Healthcare has a stabilizing effect on the patient and the surrounding community, reducing community medical costs, improving patient outcomes, and enhancing quality of care.
People who need treatment for mental illness often face multiple barriers, including stigma surrounding mental illness, lack of knowledge in how to seek help, inability to keep appointments or long referral times. United Family Medicine is able to provide in-the-moment healthcare by screening patients for mental health issues throughout their clinic experience. If the provider feels the patient needs help, mental health practitioners are on-site to provide immediate care and assessment — no referral needed. In addition, behavioral health staff can assist in addressing feelings about a patient's chronic medical condition and set health management goals.
Visiting an unfamiliar clinic or physician can be a daunting task, so allowing our patients to be treated for their mental health issues at their primary care clinic allows them to feel safer and more comfortable, and increases the likelihood that they will keep appointments. We also have specialized staff to support patients by helping them to navigate their next appointments and coordinate, or sign up for, insurance. All of this is done on site.
At United Family Medicine, we want to equip our patients with the tools and treatments to address their medical and mental health issues before they become mental health crises — crises not only for the individual, but for family, friends and the community at large. By using this model, United Family Medicine empowers our providers and staff to respond to mental illness consistently and holistically.
United Family Medicine, 1026 West Seventh. For appointments call 651-241-1000 or walk in.