Abby's Angle
In July, I participated in a 6-Day Backpacking Trip across 28 miles of the Superior Hiking Trail (SHT) with Camp Northwoods. And I must say, it was an experience of a lifetime.
Winding from Jay Cooke State Park to the Canadian border, The Superior Hiking Trail is a 310-mile-long hiking trail through rocky midwestern terrain. Split into 2 sections, the 52.8-mile southern segment is exclusive to day hikers along the Minnesota/Wisconsin state border to Duluth. The northern portion runs from Duluth to the Canadian border, offering 269 miles of trail. Along the way are incredible views – including the rocky ridge overlooks of vast Lake Superior.
For me, Hiking the SHT was my first backpacking trip. So, allow me to take you along to see what my hike was like and the pros and cons of this experience.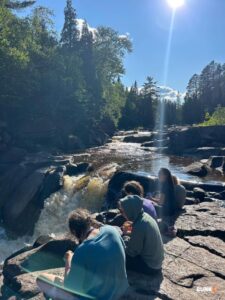 Starting off, the trip really starts at the packing stage. When backpacking, it's important to have the right gear, such as proper footwear, breathable clothes and a sturdy backpack. One of my favorite items to bring along is a compact hammock. At one campsite, we were situated by a river with a stunning waterfall view. Unfortunately, most of the rocks by the water were wet and uncomfortable to sit on. Thankfully, the hammock was easy to set up between two trees, allowing us to enjoy the beautiful view while staying dry and comfortable.
With that, some items proved to be dead weight, such as books. On my trip, I bought three books. Two medium and one very slim. As an avid reader, this is hard for me to say, but the reality is that I didn't have enough free time on trial to read. Realistically, I should have brought one medium-sized book to indulge in those rare moments of rest. But for anyone looking to hike on the trail this fall, be realistic about how much you are going to read.
While hiking, I carried my gear, food, and personal belongings in my backpack. Every so often, we would take a "packs off break" (a break without your backpack on) or a water break (backpacks' on, usually standing). During these breaks, we had the opportunity to appreciate the beautiful scenery around us, the refreshing breeze and the gentle swaying of the trees. We would sit on the rocks and listen to the birds calling and whistling to each other, as if it were the most significant thing in the world.
Once we arrived at our chosen campsite each day after hiking, we would unpack and set up tents and we began making our dinner. We would then eat, clean up, pass out mail and retreat to our tents due to the dreaded mosquitos. Around 10 p.m. we would go to bed falling asleep to a roaring river or the quiet chatter of the grasshoppers. At 7 a.m. the next morning, we woke up, packed up our gear from our tents and put those away before making breakfast which was always my favorite part of the day, with one day starting with pancakes before going off onto the trail.
While that might sound unexciting, spending time on the trail proves to be an excellent bonding experience with the people you chose to go with. During the 6-day trip, we talked extensively while also sharing meals, sleeping arrangements and overall experiences. By the end, I discovered that I knew my companions better than I ever thought possible, and they knew me too. It's amazing how a hike created such strong corrections.
Speaking of connections, being on trail means disconnecting from screens. During my backpacking experience at Camp Northwoods, I didn't have my phone with me. Phones were mainly stored in a safe but I kept mine at home for those two weeks. If you choose not to go through a camp, you will naturally have your phone with little to no internet. However, it was a unique experience for me to be without my phone and disconnect for a while. Being at camp and on the trail without my phone allowed me to connect with others and nature. It was one of the reasons I felt so present and centered. If you plan to go on the SHT this season, I suggest taking some time to be without your phone and experiencing life through your own eyes to really enjoy the beauty.
Pros:
During a rest day, there were many options for day hikes off-trail, which mostly led to towns that could supply food, which was essential to other hikers (we packed all of our food beforehand).
The SHT has incredible vistas. Whether it was the rapid rivers, deep gorges, mountain overviews or the frequent overlook of Lake Superior, the trail always had beautiful sights to enjoy which was a pick me up after a long day of hiking.
The campsites were regularly empty during one of the busiest times of the season and most offered amenities such as latrines, a moving water source and a private trail to each campsite.
Unlike most trails, SHT is less crowded and you irregularly see anyone unless you stop at a popular landmark on the trail.
The helpful trail markers were essential for finding our way on a trail, especially if we were at a cross section between two paths. These appeared as blue, painted or plastic rectangular "Superior Hiking Trail" signs.
The trail was extremely well-kept thanks to SHT trail maintenance, which made sure any branches or trees were out of the way of the trail.
While I was not on trail for the autumn season, I have heard and seen photos of the beautiful fall colored trees which in itself is a reason to visit the trail.
Cons:
The mosquitoes were quite terrible in the summer. During my time on the trail, regardless if we were close to a standing water source or not, the mosquitoes would be harsh, even with layers of bug spray on. There will not be much, if not any, if you choose to go in the autumn.
The trail can have very harsh inclines and downhills along the way, fluctuating between 602 and 1,829 feet, and climbing a total of 37,821 feet. Jarring downhills are just as frequent, most being steep and rocky. My group did one of these inclines and it was very difficult.
During my time on trail, the trail became very hot and humid but would be perfect in this autumn season.
All in all, the SHT was a perfect trail for me as a beginner in backpacking to indulge in. It offered easy access to wilderness, solitude, and prime camping spots. I would recommend this trail for any beginner backpackers or if it's more accessible to you, take the day hiking option because it certainly is a once-in-a-lifetime experience. Although I only completed 28 out of the 310 miles, I can't help but look forward to when another opportunity to hike this trail comes along because it was truly unforgettable.