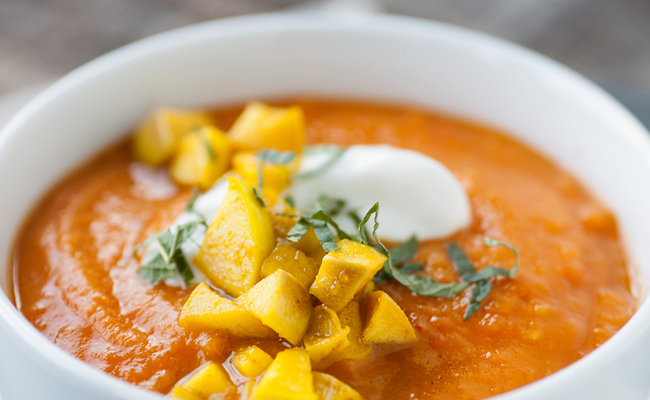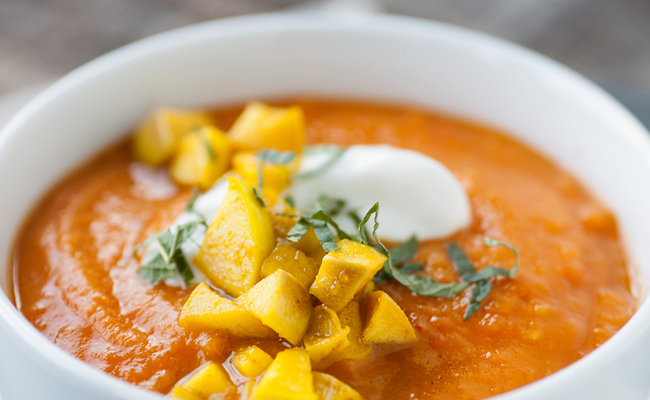 It all began after a visit with an old friend. A certain supper they served us, spare and without narrated production or apology, as is normally the case elsewhere. It was this, all from scratch: a small bowl of squash soup, a wedge of wheat bread, a serving of pickled beets, and a short mug of mulled wine. We contributed a coaster-size round of brie, and stole a few pecan cookies from one of their counter jars, but otherwise this was the spread for our feast. We ate slowly, tucked around their small table, and laughed at each other's stories. I was surprisingly full, or just right in the belly; we all were.
It was a reminder, and one that aligns with this time of year, when we're rethinking habits and styles and refreshing goals. Rather than dieting or short-term attempts at bettering our health, consider a much simpler, gentler, and pleasurable approach to eating. Recall author Michael Pollan's cry: "Eat Food. Not too Much. Mostly Plants." That still rings true today. Beginning with small portions, no matter who you are, and exercising caution to not over think the subject. If appropriate, practice eating a little bit of everything, meaning a variety of food groups, colors and textures every week, or every day. A slow and gentle practice to incorporate into the new year. Begin with soup.Kristin is a chef, meal planner, and the founder of Goosefoot Kitchen. She teaches, writes on, and advocates for the good life in and around the kitchen and at the table.

Sweet Potato Soup with Coconut Milk & Ginger
We do a lot of blended soups in our house since our young daughter prefers them. This is one of her favorites. Since sweet potato is the main character here, look for the best ones you can find, preferably local and sustainable. And although an immersion blender makes for efficiency and fewer dishes to clean up, a stand blender produces a creamier and silkier soup in less time.
Market List
• 1 medium red onion  • Butter or vegetable oil• 1-2 plump garlic cloves • 2 pieces, fresh ginger• 3 pounds sweet potatoes  • Allspice• Kosher or sea salt and black pepper• 5 cups of vegetable/chicken stock • One 15 oz coconut milk (organic, unsweetened)• Honey or maple syrup • Fresh cilantro, mint and/or chives
Refer to Notes and Variations. Serves 4-6.
Start with an Onion Chop 1 medium red onion, and place a heavy soup pot over medium-low heat. Once hot, add 2 tablespoons of butter or vegetable oil and your red onion. Toss and slightly cover with a lid while it softens. While the onion cooks, finely chop or slice 1-2 plump garlic cloves, grate 2 thumb-size pieces of fresh ginger (peeled), and peel and chop 3 pounds sweet potatoes. Once the onion has softened, add in the garlic, ginger, sweet potato, ½ teaspoon allspice, and a good pinch of kosher or sea salt and twist of black pepper. Stir and allow the flavors to meld.Simmer and BlendCover the sweet potatoes with about 5 cups of vegetable or chicken stock (preferably homemade), making sure the stock just covers the vegetables. (Depending, you may need to add just a bit more stock, or water to cover.) Bring to a simmer and cook for about 15 minutes or so, until the sweet potatoes are quite tender. Once done pull the pot off the heat and allow it to sit for a few minutes. Blend the soup either in a stand blender, in batches if necessary, or using an immersion blender; blend very well until utterly creamy. CHEF NOTE: Always use caution when blending hot soups so that you don't burn yourself. When using a stand blender, never fill the blender more than halfway. Remove the cap entirely from the machine and cover the hole where the cap would be with a thick, folded kitchen towel. Then blend. By replacing the cap with a kitchen towel you allow a bit of air to escape while the hot soup blends. Scrape down the sides once or twice between blendings to evenly incorporate. Put the soup, in its pot, back over medium-low heat and stir in 1 x 15 oz can coconut milk, 1-2 tablespoons of honey or maple syrup, 1-2 teaspoons of balsamic or cider vinegar, and another good pinch of kosher or sea salt and black pepper. Taste for further salt, honey (or maple), or vinegar; stir and serve with some finely chopped cilantro, mint and/or chives.
NOTES & VARIATIONS  Use vegetable broth and vegetable oil make this soup entirely vegan, save honey (for vegans who refrain from honey). Replace all or some of the sweet potato with winter squash quite easily. If you don't have allspice, substitute with cinnamon, cardamom, cumin, curry or garam masala.