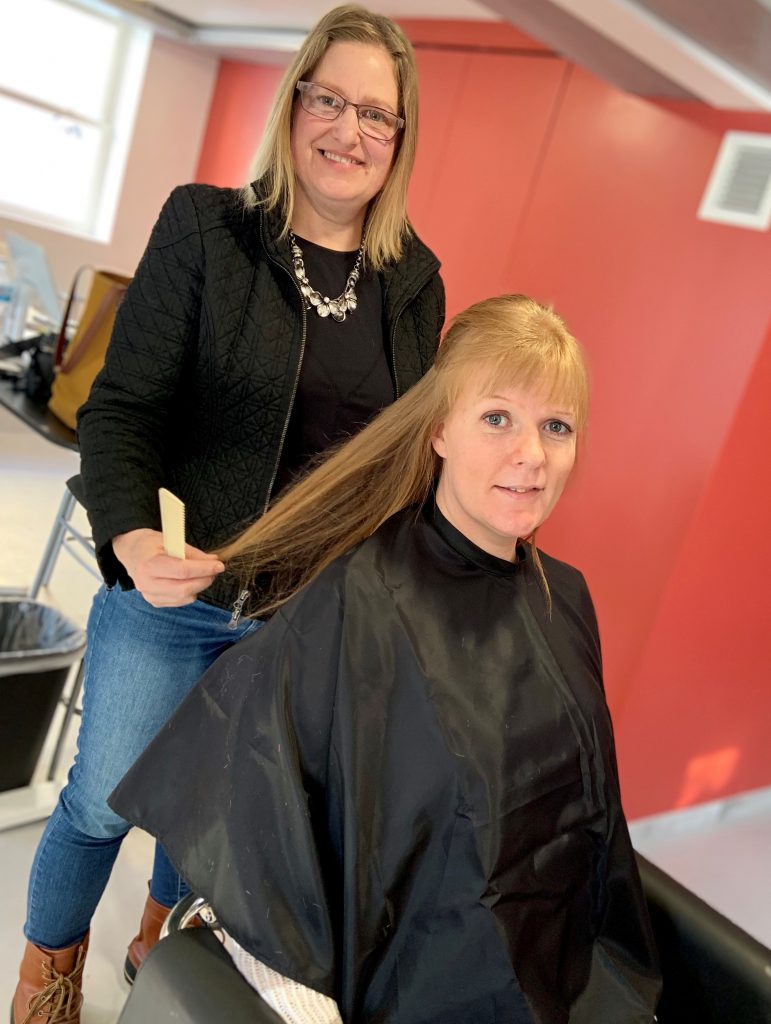 by Margaret Wimberley
Joining the ranks of women entrepreneurs in the West Seventh business community is Christine Wengler, with Elle Salon Spa, serving clients of all genders, at 1564 West Seventh. Christine was trained at the Aveda Institute in Minneapolis by its founder, Horst Rechelbacher, as well as at Vidal Sassoon in London, England. Christine described Rechelbacher as an "absolute visionary," who also had a wonderful way of explaining how every detail needed was important. "'I've had such incredible training!" she said. Christine has also had more than 20 years of experience, working as a stylist at Juut Salon Spa in Roseville and previously running her own salon in the St. Anthony area, also called Elle.

Christine's personal style, which is to prefer little to no make-up and emphasize natural beauty and appearance, is also part of her approach to finding the hairstyle naturally suited to her clients. "Head shapes play an important role in determining the right haircut for someone," she explained, adding that she starts out with each client by giving them a head massage, enabling her to literally get a feel for the individual's head and hair. "You might notice that many models have nice, round head shapes, and that's a big part of why their hair always looks so good. My job is to translate the natural shape of someone's head into the right style for them. If they bring in a picture with a look they want, that's absolutely fine, but I need to adjust to make it work with their hair and head. Unless I do that, the client is going to be disappointed because their hairstyle won't look like the one in the photograph."

Elle Salon Spa is located in the same building previously occupied by Fort Road Barbershop, and has been completely remodeled by her father, local architect Jim Wengler. Even though she is still in the process of going through renting seats to other stylists and working out what services her salon will provide, Christine, a single mom, is open now for haircuts only with a $20 special offer (through April) to kick off getting her Seventh Street business started. A big supporter of the Aveda line, Christine uses Aveda products now and is actively working on her contract to be a distributor, which should be coming through in the next few months. As things progress, she will include hair coloring in her line-up, and is considering adding facials to the services offered. In the meantime, now is the chance to get a personalized hairstyle and a terrific head massage for an amazing price.
Elle Salon Spa, 1564 West Seventh: Mon-Fri 10 a.m. to 3 p.m. Sat 9 a.m. to 1 p.m. Visit Elle Salon Spa's website at elleSalon.com. Appointments can be made by calling: 651-204-0600.