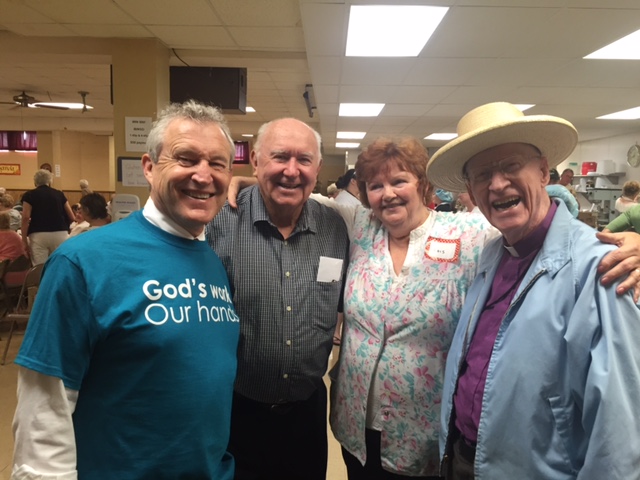 Father John Clay, well known in the West Seventh area and beyond, is retiring after 44 years as pastor at St. Stanislaus Church in the Little Bohemia neighborhood. To celebrate his legacy, the parish will host a picnic May 19 at 11 a.m. for his many friends to attend.
Clay is retiring at age 92 — most Catholic priests retire at age 75. He will remain as Pastor Emeritus of St. Stanislaus (St. Stan's) and will still be taking phone calls from those who seek spiritual counseling.
Clay started at St. Stan's in 1975 and was the first non-Czech priest since its origins in 1872. His novel homilies about an expansive idea of God drew Catholics from all over the metro area.
"When we believe that God loves us, all religious and spiritual things fall into place," Clay often says.
As a wide-ranging reader, Clay often reflected on musings by different theologians. Complicated ideas became accessible through Clay's writings, parishioners said. His popular writings can be found in his four books: Dear People Whom God Loves, Surrounded by Love, Awesome Love, and Mysterious Love.
He was born in Des Moines, Iowa, in 1926, and soon moved to New Ulm, Minnesota. As early as grade school he admired the work of a young priest in the diocese; and from that point on he pursued a calling as a priest.
After being ordained in the Archdiocese of St. Paul and Minneapolis at age 25 in 1951, he served parishes in Minneapolis, Mound, Red Wing, Richfield, and St. Paul. His first years at St. Stan's involved the implementation of new guidelines asserted by the Second Vatican Council, an ecumenical meeting at the Vatican that changed many aspects of the Catholic Church.
Clay's emphasis on the transforming power of God's love has brought healing to Catholics in the area who at times felt alienated from religion. Over the years, he has counseled people in person or via telephone, ranging from couples preparing for marriage or people dealing with hardship. The congregation is a mixture of ethnicities and has grown to more than 100 families from around the Metropolitan area.
In addition to his ministries for St. Stan's, Clay also partnered with St. Mark's Evangelical Lutheran Church across West Seventh Street for occasional events and community outreach. Clay also shared a friendship with the West Seventh Community Center, allowing the center to be housed at St. Stan's for a time and blessing the new center on Oneida Street at its grand opening. The board of the center awarded Clay the David L. Sons Award in 2007, based on his contributions to the community.
Celebrating Father Clay
The picnic will be held May 19 at 11 a.m. on church lawn (in the church basement if it rains), 398 W. Superior St. Picnic food will be served and a band will provide music. All are welcome.