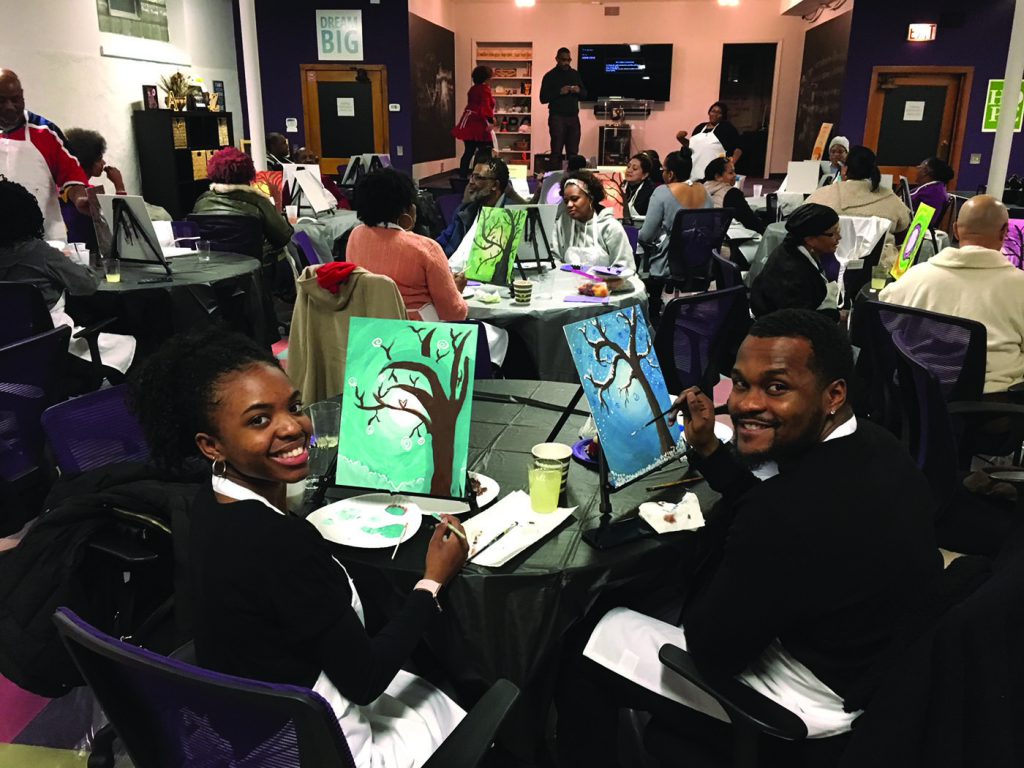 Artist, teacher, actor, author, wedding officiant, editor, dog-walker, dancer and animal chaplain — Sid Korpi is a Renaissance woman now living on West Seventh, converting a three-car garage to studio space for herself and partner Scott Metcalf, who is a multi-instrument musician — bringing her energy and entrepreneurial spirit to the neighborhood with excitement.
Born in Blaine and growing up in Minneapolis, Sid started copying comics and the little "You, Too, Can Be An Artist" ads at a young age, and kept on exploring drawing, painting and many other forms of creative expression.
Her range of experience is wide, with each element opening a way for her creativity to thrive — and, hopefully, to earn some money. She has been a social dance (swing and ballroom) teacher; author of a book, "Good Grief: Finding Peace after Pet Loss," which will be excerpted in a forthcoming volume in the "Chicken Soup for the Soul" series; an award-winning B-movie actress in such films as "Attack of the Moon Zombies" and "House of Ghosts"; and as an editor and proofreader for many years with her business, Proof Positive. Along the way she taught high school English, creative writing and fitness classes. She performs "Nonconformist Nuptials" as a certified officiant, and offers commitment/vow-renewal ceremonies using her trademarked "Pinky Swear-emony" ™ method.
Sid offers a special approach to teaching painting, under the rubric "Just Arting Around" and her private painting parties. In small groups of six or more, using acrylics on canvas, each painter works on an interpretation of a theme picture chosen from more than sixteen different baseline designs. Taking on the same design theme gives the group coherence, while Sid focuses on helping people get past their inner critic, whose message often is "You can't paint!" Participants use the three-hour sessions to learn how their choices of color, form, content and mood will make the painting their own singular creation. Sid's instruction helps deal with the inner critic and students' fears of "making a mistake."
People may schedule their party at her home studio (1234 West Seventh) or opt to have Sid bring the party to them in their homes or workplaces.
Classes are open to all, from beginners to more experienced painters. Even — or especially — those who feel they have no talent are encouraged to have a go. Many times they are startled by the results.
Call/text Sid at 612-369-6877 or e-mail her at sid@justartingaroundmn.com to schedule your painting party. Days, evenings and weekends are all possibilities, by appointment only. See juststartingaroundmn.com for all details and workshop specials.