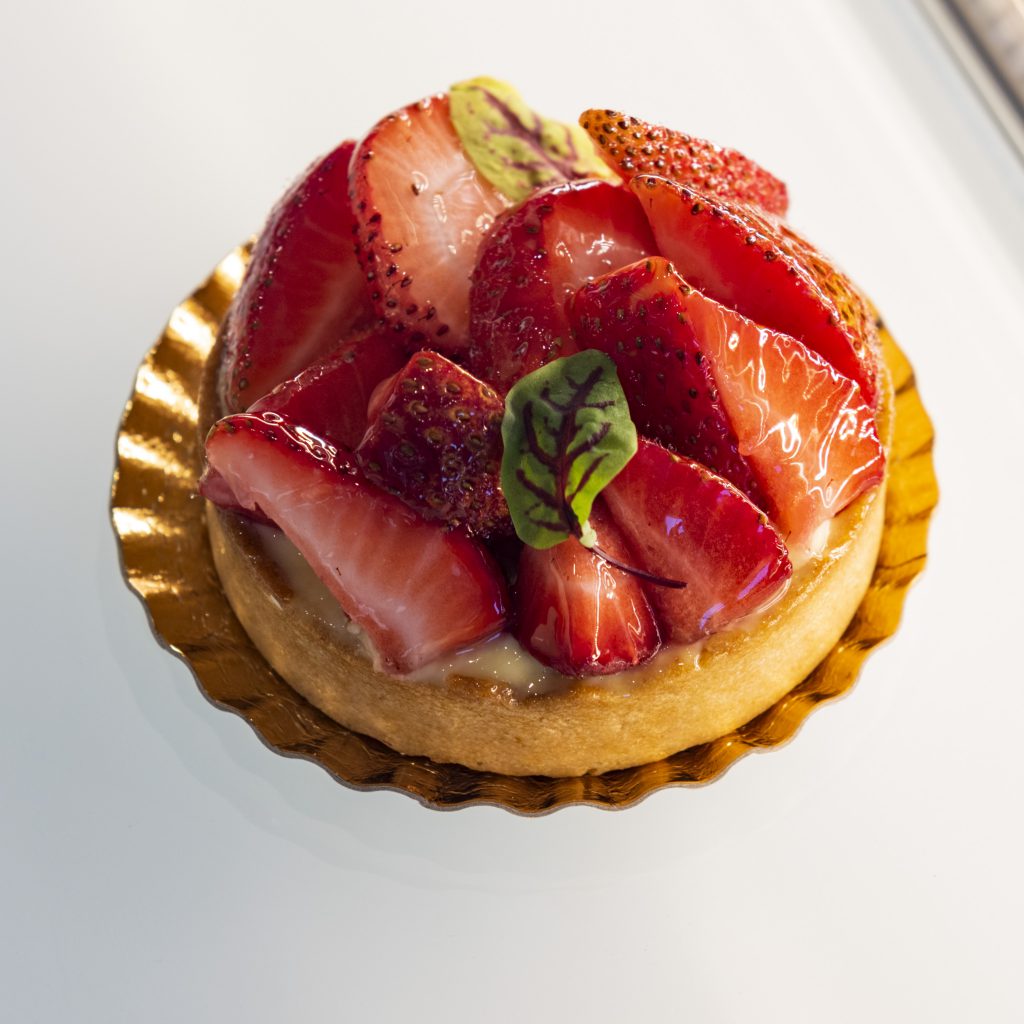 by Jerry Rothstein
Just before your eyes are drawn to the rich pastries and crusty breads at the Rose Street Café now open in the Rathskeller Building, you sense the light. This is a high-ceilinged space with natural light pouring in from the two long sides of the room, bringing its own richness.
John Kraus and Elizabeth Rose are now co-owners of the Rose Street, Bakery Lab and Patisserie 46 enterprises. John began his career in London, UK at the Dorchester Hotel, and began to observe the intricacies of crafting pastry. He then contributed to the opening of the Michelin-starred restaurant, Fleur de Sel. Returning to the U.S., Kraus worked at the five-star, five-diamond Wild Boar in Nashville, and as Executive Pastry Chef at Nashville's exclusive Magnolia Restaurant, and was known for his innovative delights as pastry chef at NoMI restaurant in the Park Hyatt Hotel, Chicago. In 1999, Chef Kraus was invited to join The French Pastry School in Chicago, where he worked and taught for a decade until he moved to Minneapolis to open his own bakery, Patisserie 46, which opened its doors in 2010.
With Patisserie 46 John created a neighborhood gathering place that reflected his belief that "the lifeblood of a patisserie is the neighborhood." From the first location to the recent opening of the Rose Street Café and Bread Lab in the Rathskeller Building, the path has enriched every neighborhood involved, from Linden Hills (2016) to Selby and Snelling and to the first smaller stand in Keg & Case last year.
Elizabeth and John met in 2014 at Patisserie 46. With her experience in marketing, branding and administration, she soon began working with the company to help prepare the ground for John's desire to expand – to bring other neighborhoods their own patisserie. Her ideas and ability to analyze each potential market helped focus and develop a plan to work with.
In 2015 John was a member of the three-person U.S. team competing at the Coupe du Monde de la Pâtisserie and winning the Bronze Medal. The remarkable demands of this international competition included completing 21 culinary items; 3 chocolate desserts, 3 frozen fruit desserts, 12 identical deserts on a plate, and 3 artistic creations with each made from three different materials – sugar, chocolate and sculpted hydric ice. His many other honors include 2002 Pastry Chef of the Year (Paris Gourmet); 2005 & 2006 Top Ten Pastry Chefs in North America (Pastry Art & Design); 2010 Top Ten Chocolatiers in America. John is also the first American-born Relais Dessert member, the exclusive order of about 100 pastry chefs throughout the world that is dedicated to excellence in the field and passing collective wisdom to new generations.
The Bread Lab, besides being the main production bakery, also serves as the heart of an apprenticeship program for which Kraus is designing a trade training curriculum. He is working with Saint Paul College on course work that will be delivered there and at the Bakery Lab. He also has a program at Southwest High School in Minneapolis that introduces students to the world of baking and helps them to decide whether to pursue it with further education.
And as an echo of his own experience, in fact, pastry chef Kathryn Goodpaster is currently training at the facility for the Coupe du Monde de la Boulangerie, the world cup of bread baking, which takes place in Paris early in 2020. Kathryn is a St. Paul native, growing up at Fairmount and Victoria not too far from the Bakery Lab. She is responsible for breakfast pastries on the team, and won her spot after a round of demanding trials.
The Rose Street Café features breakfasts and lunches that capitalize on the many superior breads and pastries that the bakery produces. A large patio seating area supplements the inside space and help to make that part of the Schmidt property much more cosmopolitan.
John explained how the brand evolved into Rose Street: "The Rose has been a pivotal flower throughout my life. It was the first sugar flower I ever made, my mother's middle name, my favorite flower, the queen's garden I have spent so much time walking through and now on this journey I have found my Rose as it happens to be my wife's last name. It sounds a bit silly but for something that has continually been a positive in my life it was the only thing that made perfect sense to name my next patisserie." He continued, "All our work is really about building a better community. We want to contribute to it, be nourished by it, grow together with it. So much is happening here in the West End that our decision to come here was really an easy one, and when the perfect spaces opened up in the Rathskeller Building for both the bakery and the café, we knew we were on the right path."
Rose Street Café: 882 W. Seventh St., St. Paul; RoseStreet.co; 651-556-4487. Hours: Tues-Sat, 7am-6pm; Sun 7am-3pm; Mon closed.