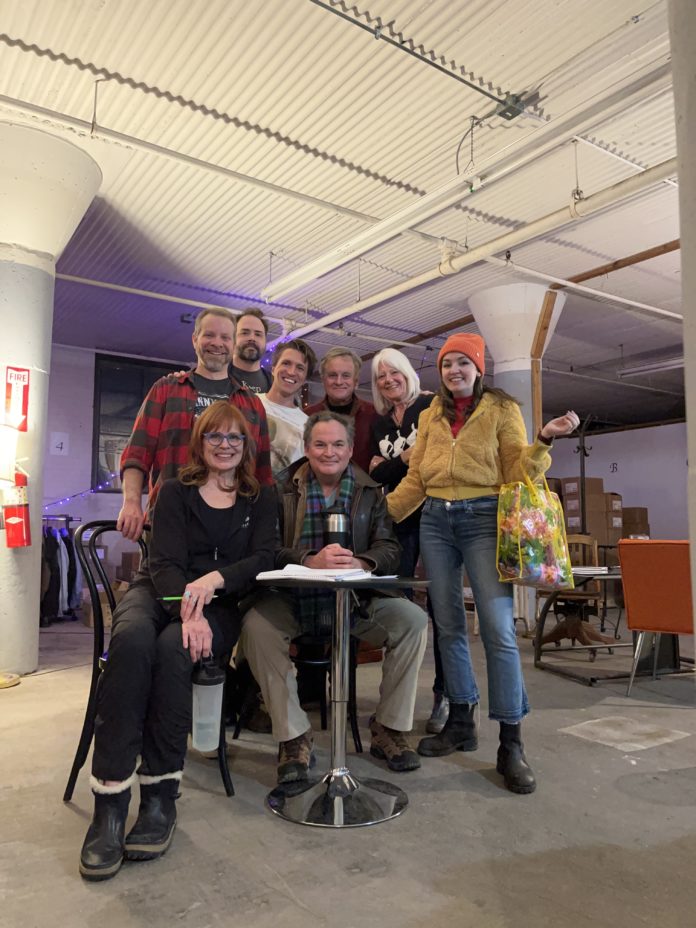 The Big Blue River premieres March 4 at North Garden Theater
By Casey Ek
Tucked away in a warehouse across the river from downtown St. Paul, the cast of Patrick Coyle's upcoming production of The Big Blue River was hard at work on Saturday, Feb. 19. Up several stories and obscured by antiques, the group's practice space is filled with an energy only found among performers with just over two weeks before showtime. Coyle gives directions to the actors from a desk, but he'll occasionally stand during more intimate moments like when one character confronted another during a therapy session.
Set to run from March 4-27 at North Garden Theater, 929 West 7th St., St. Paul, The Big Blue River represents Coyle and Mariah Theatre Company co-founder and lead actress Gini Adam's inaugural attempt to candidly depict issues of mental health, suicide awareness and addiction. The play follows disenchanted therapist Laura Grace (and her alter-ego Lindy) as she delves into her own psyche through a writing project derived from her clients' confidential disclosures.
For Coyle and Adams, mental health awareness is intrinsic to their company. Mariah Theatre Company, in fact, took its name from a synthesis of the names Mary and Aria. Mary was a close friend to Coyle while Aria was Adams' 13-year-old granddaughter. Both Mary and Aria died by suicide.
"It's a story that needs to be told," Adams said of the The Big Blue River. "I hope that people get out of this[play] that you can survive and there is hope."
Coyle described The Big Blue River as a "twisting" and "genre-bending" play that could be considered either a darkly funny drama or a comedy about grieving.
"Comedy has been my saving grace as far as my approach to mental illness. But what underpins comedy is tragedy," Coyle said.
Adams will be joined onstage by lifelong St. Paulite Jim Cunningham (Frank), who has been a Twin Cities actor for 35 years and has earned acclaim for his role in a dramatic reading of It's a Wonderful Life at the St. Paul Hotel and his roles with Illusion Theatre; Sulia Rose Altenberg (Teagan) who has earned her stripes with Six Points Theater and several other companies; Matt Wall(Tanner/waiter), who worked with Coyle in his production of Death of a Salesman and Miracle Worker and has numerous other local theater credits and Derek Long (Donald), who worked with Coyle in the film Into Temptation and boasts numerous TV, film and theater credits as well.
To guide the actors, Coyle fosters a kind and compassionate space, Altenberg said. She said that kindness has thus far been crucial considering the sensitive subject matter of the play and has helped her bring her character to life. Altenberg's character, Teagan, is a young woman who has assumed a dysfunctional parental role over her parents. The actress said she believes audiences are sure to see themselves in Teagan and hopes that in doing so they might feel a sense of connectedness with the play.
"It's almost always emotional for the audience to see themselves mirrored in family relationships [on stage]," Altenberg said. "That's amazing to know there's other people who are wrestling with that spot."
Long said his playing his character Donald scared him at first, namely because the character performs a parody of Madonna's Like a Virgin in drag. But on Feb. 19, Long could be seen in the wings of the rehearsal space repping the piece quietly to himself while the other actors worked with Coyle. He'd sometimes strike a seductive pose despite having no audience in order to refine his delivery.
When Coyle learned of Long's enthusiasm for the role despite his fear, he knew he made the right casting call. In fact, Coyle said the cast at large is unique in that they resemble the vision he had for the characters almost perfectly. "It's pretty rare when the look and sound and feel of these character that I have in my head walk in the room, and it happened this time," Coyle said. Coyle said there are no guarantees that audiences will appreciate the company's efforts to toe the line of multiple genres, but he is eager to find out.
"It's going to be fascinating to see how people respond," Coyle said. Mariah Theatre Company "The Big Blue River" March 4-27 at North Garden Theater. Most Thursday and one Friday performances will include a talk back with the cast, director and a surprise special guest. Tickets are available online at bit.ly/bigblue2022 or by calling 651-805-3710. For more information, please visit mariahtheatre.com.