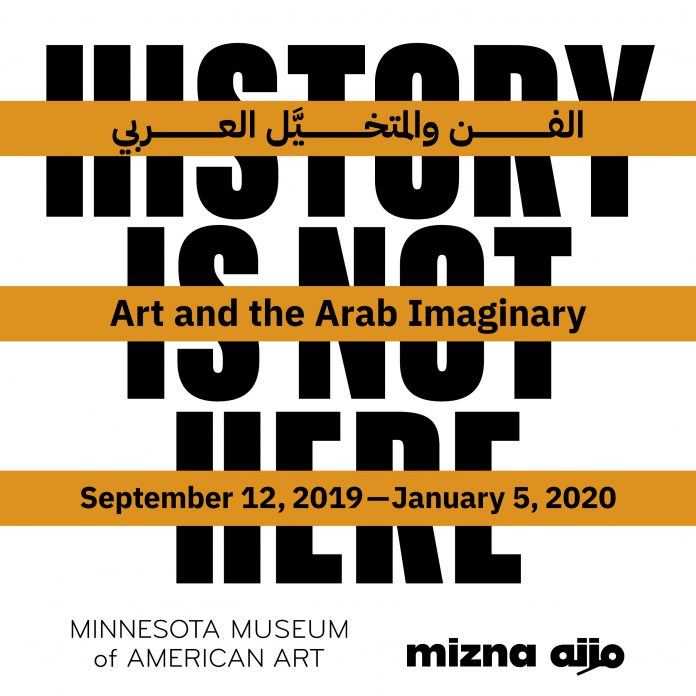 Mizna, an organization devoted to promoting Arab-American culture, providing a forum for its expression, and Minnesota Museum of American Art (the M) are opening the exhibit History Is Not Here: Art and the Arab Imaginary on September 12, running through January 5, 2020, presenting the work of U.S.-based and international artists who engage what can be termed the "Arab imaginary" as a strategy for examining various social, cultural, and political positions. Best understood through a framework that recognizes the so-called Arab world and its diaspora as multiform, made up of 22 countries with distinct histories as well as diverse ethnicities, languages, and religions, this exhibition explores and questions the ways in which the region has been historicized.
Coinciding with the twentieth anniversary of Mizna's flagship art and literary journal, the exhibition's roster is selected from the artists highlighted in its pages. Featured artists, including Osama Esid, Monira al Qadiri, Walid Siti, and Emily Jacir, make connections between contemporary geopolitics and the histories that inform them. Their works address challenges in representation, including the misunderstandings and missteps, and the limiting and problematic terms that are often used to define the region, especially in the U.S. History Is Not Here rejects the idea of history as a fixed category and looks to alternative imagery and language structures from which new "imaginaries" can be generated.
The M, St. Paul's oldest major art museum, is dedicated to inspiring people to discover themselves and their communities through American art. The museum's collection of approximately 5,000 works of art emphasizes American art from the 19th century to the present, and in particular, attempts to diversify the notion of what constitutes "American art." Its exhibitions, public programs, educational offerings, and community initiatives distinguish the M as a responsive museum committed to bringing the visual arts to new audiences.
The exhibition will be accompanied by a calendar of public programs, including artist discussions and journal readings that provide opportunities for audiences to engage with the images and ideas. It is supported, in part, with generous funding from the John S. and James L. Knight Foundation, St. Paul Cultural STAR, Marbrook Foundation, and the Andy Warhol Foundation for the Visual Arts.