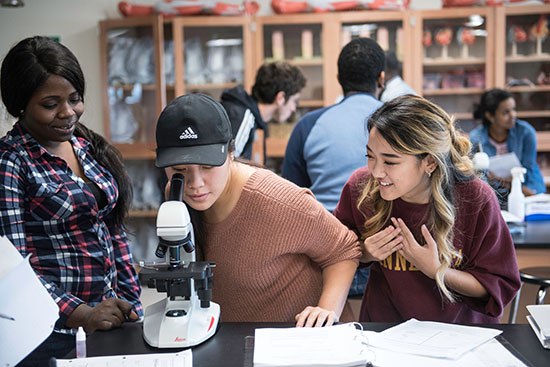 by Margaret Wimberley
Dr. Rassoul Dastmozd is president and CEO of St. Paul College, a vibrantly diverse community college with an enrollment of more than 13,000 students, located at the easternmost end of Marshall Avenue in St. Paul. Dr. Dastmozd, who immigrated to the United States from Iran at age 18, chose Minnesota as his home after first briefly living in Oklahoma because, he admits, "I actually thought people in Minnesota spoke English with the right accent." Under Dr. Dastmozd's guidance, and with a first rate faculty and staff, St. Paul College now offers associate degrees for 63 courses of study, 70 career certificate and diploma programs, and is the home of the new $19 million Health and Science Alliance Center furnished with the same advanced equipment and technology used in hospitals. St. Paul College is consistently ranked in the top ten of American community colleges by TheBestSchools.org.
Well-funded, high quality education at a community college level reflects a paradigm shift regarding higher education. "We know that the students coming to us are not the students of yesterday," Dastmozd said, explaining that the time when high school counselors exclusively pushed graduates to attend four-year colleges has changed. "When I started doing this work back in 1985, one out of ten college kids went to a community college, but today six out of ten are going," he said. "You have students who finish their two year program here and get admitted to a four year university. Or for an adult person, it may be taking two welding classes to improve their skill set to just get 35 cents more an hour." One of the college's four welding instructors is a woman.
Audrey Bergengren, SPC's Executive Director of Marketing, Communications & Recruitment, explained further: "We get a lot of people who never made it to college and are coming back ten or fifteen years later. And we also get people who have gotten their bachelors and masters degrees and are coming back for a new start, too. The education level of folks here varies."
Citing better value as a key factor in St. Paul College's appeal in relation to a four-year school, Dastmozd said this not only relates to cost, but also smaller class sizes, better customer service, and transferability of courses. "Community colleges are known to be nimble in both their scheduling and their programming. We don't have any classes here with 300 students to one teacher. Our biggest class is 48 students, and that's a science class split into labs of 24."
What makes Dr. Dastmozd most enthusiastic when talking about his college is the faculty. "I cannot say enough about the credentials of this faculty. It's very critical that we have excellent faculty members who have the credentials, who have the knowledge, so those credits transfer." St. Paul College students have recently transferred to universities as selective as Stanford and Smith.
St. Paul College is also a melting pot, serving as a bridge between the local immigrant and refugee population, who comprise a large percentage of the school's students, and those in the community who may resist their presence. Recalling that St. Paul College has been around since 1910, Dr. Dastmozd said, "We've always been a pathway for immigrants — new Americans we call them — anywhere from the time of Irish to Italian to Norwegian to German to Swedes to Russians to Cambodians to Hmong to Laotian to Vietnamese, Somali, Tibetan, Bhutanese. Name it. What is next is unknown to us, because we have always been a welcoming place for anybody who wanted to pursue a higher education. So I would say this, we truly believe when our students start here, they can go anywhere, and they know what their responsibilities are when they come through the doors of this college."
Reflecting on his also being an immigrant, Dastmozd said, "I walk in the shoes of our students. I know what being homeless means. I know what it's like not having enough food to eat. I know what it means to work full time and go to school. I know what it is to be a person of color and that people judge you. I know if you have an accent how people are going to treat you. It's all about how people expect you to assimilate and expect you to accept their life, the majority way of life. So to me, those variables drive me every day because I see that in our students. Not only students of color, but also our Caucasian students who are coming from socio-economical disparities. But I see hope, I see this life brimming in their eyes that they're here in search of hope and bettering themselves.
Dastmozd continued: "Between now and 25 years from now, 70 percent of the jobs in Minnesota will be held by people of color. If we're going to have 70 percent of the work force as persons who are not white, we need to be hospitable, we need to give them equitable treatment in providing the tools they need to be successful; otherwise they become liabilities.
"The state of Minnesota has the second worst home ownership ranking for people of color. It also has the second lowest income level for people of color. So what are we doing about it? It's through education, through shift of policy. It's about intentional work we need to do and also cultural competences. Because we can't allow this growing population to go sideways, sliding down. We have to provide some safety mechanism for them to be successful. One venue is education, but also a job at the end of the line, but not just a job. A career builder."
Acknowledging how students who are marginalized by their social strata, differences, or simply lack of connections, face added challenges after leaving school, Dr. Dastmozd explained his role in making connections within the community for his students. "The message usually is that education is the best equalizer. Yet that is a utopian idea, because you have to have social connections in order to be accepted and hired. That's where I see my role, through board engagement, board development. This morning I had the vice chairman of US Bank here for half an hour, giving him a tour. These are your clients, but also your employees, so let's figure out what we can do for them. Those types of things provide social connections to an immigrant as well as a white person who doesn't have any connections."
He added, "When you go into our cafeteria, look out at the buildings that make the city. We built those buildings. But now our job is to occupy the buildings with our graduates. That means relations with employers, relationships with the city of St. Paul, relationships with Ramsey County, with Ecolab, with Wells Fargo, US Bank, that would hire these graduates, not as a bank teller, not as an operator, but as a starting point."
Letting all that was said sink in for a moment, Dr. Dastmozd sat back thoughtfully, smiled, and then said, "It's like this story: Our blueberries are not like Ben and Jerry's, all nice and round. They're all different shapes, and we make the best blueberry ice cream."
Margaret Wimberley is the Creative Director of the Community Reporter.