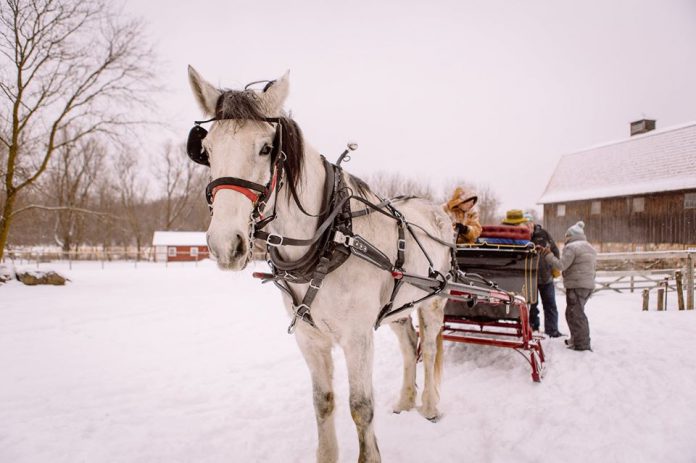 Winter Phenology Family Hike: 1/11, 10-11 a.m. at Main Office Entrance 1, 365 Marie Ave W West St. Paul. Hike around Dodge to learn how plants and animals survive winter. Look for tracks and other animal signs as you hike through the woods and on top of the frozen Farm Pond. A special treat awaits us at the end the group at the end of the hike! Pre-registration required. Cost: $7 per person. Ages 2 and under are free.
Women in the Woods — Winter Rendezvous: 1/21 & 22, 7-9 p.m. at Farm Entrance 3, 1701 Charlton St. West St. Paul. Enjoy an evening with Dodge Naturalist, Pam Welisevich, as you go into the cold to try out snowshoeing or kick sledding, depending on snow conditions. Become more comfortable and knowledgeable about the natural world by joining other women interested in getting outside. Start with a glass of wine and social time before a hike through the woods to discover what is happening as winter blankets Dodge Nature Center. Comfortable boots and clothing please. This program is for adult women ages 21+. Pre-registration is required. Cost: $20 per person.
LIMITED SPACE! Love in the Wild Date Night: 2/13, 6-8 p.m. at Farm Entrance 3, 1701 Charlton St. West St. Paul. Hosted by Farmer Don Oberdorfer and Naturalist Pam Welisevich. Animals celebrate Valentine's Day all year round. Some of these mating rituals are wonderfully bizarre. "Love" secrets of a variety of animals will be revealed. Enjoy social time indoors with wine and cheese. After that, you will have time to snuggle up with your loved one in a picturesque horse-drawn sleigh. You will need a little more than love to keep you warm in February, so bring the right clothing to be comfortable on the sleigh ride. This experience has limited reservations so sign up soon. Adults must be 21+ to drink alcohol. Pre-registration is required. Cost: $60 per couple.
Preregister at 651-455-4531 or DodgeNatureCenter.org.