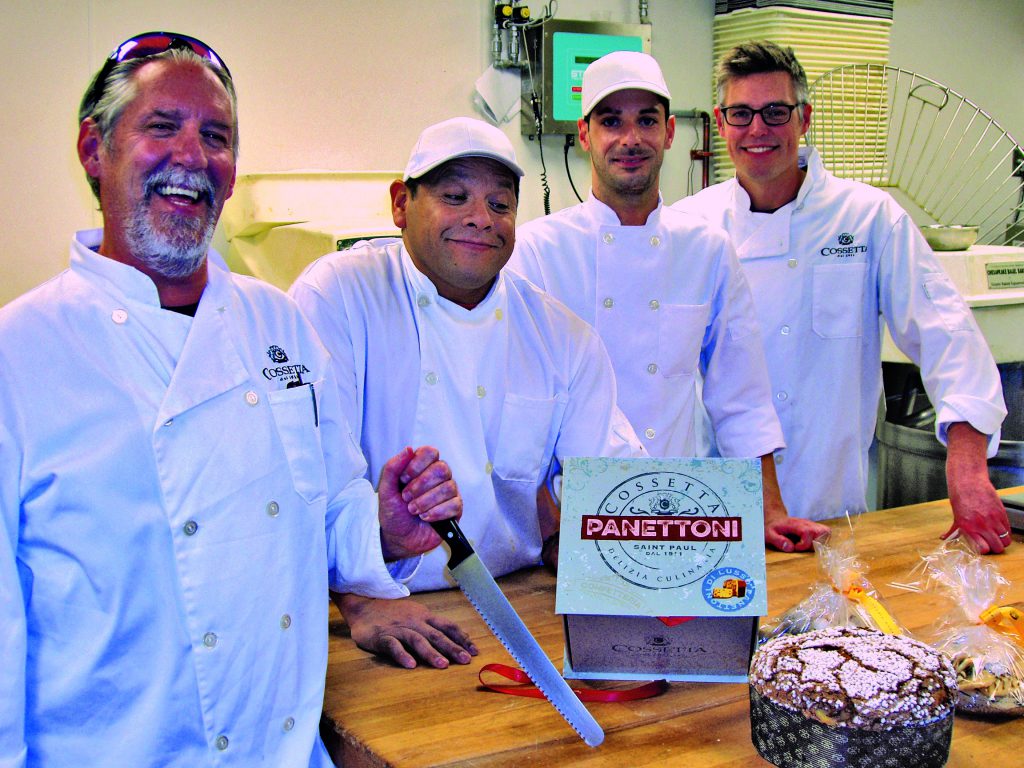 Cossetta's: Back to the Sources
by Jerry Rothstein
Cossetta Alimentari is much more than a St. Paul landmark and destination for all things from the Italian kitchen. Within its West Seventh headquarters is the equivalent of a block of shops in any Little Italy [mine was on Arthur Avenue in the Bronx]. A fine restaurant; a relaxed dining area, cafeteria style; pizzeria; Pasticceria with pastries and gelato; Italian Market with meats, breads, prepared foods and salads, and imported specialities. Down the block, Cossetta Eventi offering individualized menu planning and catering for gatherings of two to two thousand.
But when you look deeper into the Cossetta culture and its highly trained cohort of more than 300 staff, you find that Cossetta never rests on its laurels.
This year, the team involved in bakery and pastry production spent the time needed to plan, learn, gather resources and produce Cossetta Panettone, the traditional Italian sweet-dough Christmas cake. Its tradition of more than 500 years originated in passion, and continues today with a passion for quality that this team holds close.
Inspired by Dave Cossetta, the team consists of Charlie Schwandt, Executive Chef of Production; Ronald Bohnert, Executive Chef-Retail/Culinary; Jaime Martinez, Executive Chef of Bakery and Pastry Production; and Marco Failla, a Pastry Maestro from Catagna, Sicily, here for a year as a consultant to assist with the Panettone/Pan d'Oro project.
Each of these chefs brings fascinating histories to the work. Charlie studied and performed opera; Ronald was chef at the Radisson downtown for 23 years, followed by 18 years at the Stone Ridge Golf Club; Jaime started off as an engineer and explored Animal Husbandry, before coming to Chicago to cook in an Italian restaurant and then to the Cities to open one at the Mall of America — he has been with Cossetta's for 19 years; and Marco assisted the world-renowned Iginio Massari at his school, Cast Alimenti in Brescia, when discovered by the Cossetta team, who were there to learn as much as they could about Panettone. [Massari has garnered countless honors and prizes in his career — perhaps the most telling of his mastery is The Master of Master Yeast Masters Award.] Marco is affiliated with a group of chefs in the areas of pasta, pastry, bread and general Italian cuisine, with whom Cossetta's already had a relationship.
Talking with this group, the word "passion" arises frequently, and it has taken passion and perseverance to create the Panettone they hoped for.
The process involved developing the recipe, sourcing the best ingredients and a lot of experimentation. Making a yeasted sweet cake involves developing the "mother" dough. It must have the right acidity and moisture content. The first mix develops the structure of the gluten, proofs the yeast, develops flavor. Second and third feedings, restings, risings, occur before the precisely measured dough can go into baking molds. An hour in the oven followed by three to six hours cooling. The entire process takes almost 60 hours with continual inspection, and between now and Christmas they'll produce 60 Panettone each day, for a total of 3,000.
The classic Panettone originated in Milan, and will be available in the original as well as chocolate and pistachio. The smaller Pan d'Oro, which originated in Verona, is also in production.
Dave Cossetta has a few more surprises in store for the new year. He'll be opening Frank's Levee Tavern on the second floor, a sit-down bar with food service. A hand-crafted bar is currently being made in the U. K.
The Rosticceria will also open, with a larger range of rotisserie meats and prepared foods.
And Roman-style pizza using a 24-hour raised dough baked in special pans, as well as Roman Pizza Bianco, will come to the Cossetta menu.
"Qualita di Vita. Cibo Buono."