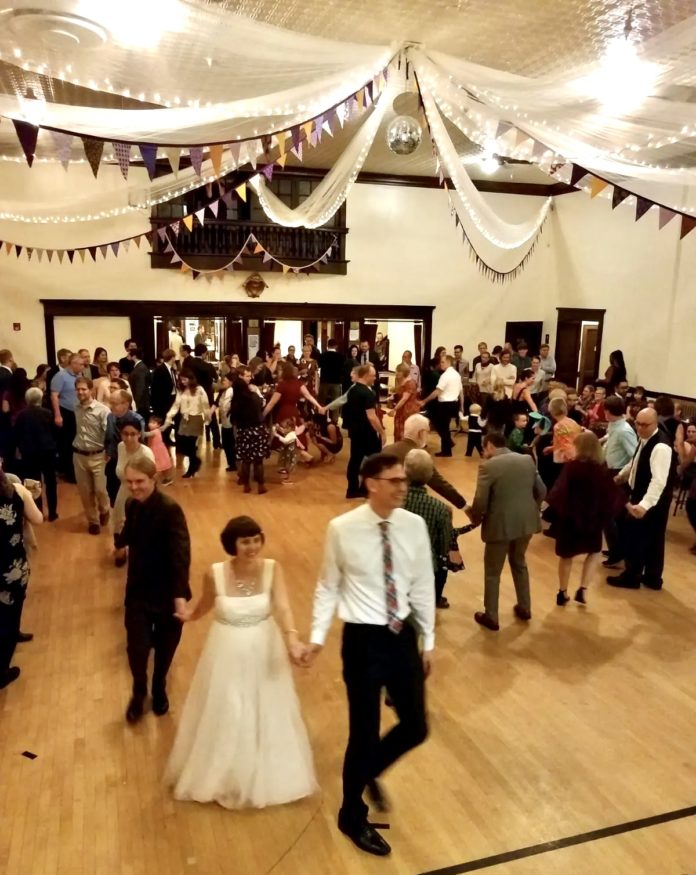 By Paul Bard
Have you ever been inside the CSPS Hall? Anyone who's driven past the intersection of West 7th and Western will have seen the handsome, three-story red brick building at 383 Michigan St. that houses the Pajarito restaurant. A red neon sign identifies the building as the CSPS Hall. But even if you've patronized the Pajarito (or its predecessor, the Glockenspiel) you may not have been inside the upper floors of the building or know very much about its history. More importantly, you might not know about its ongoing life as a center of Czech and Slovak culture in Minnesota and about the many activities it offers to people in the neighborhood, whether of Czech-Slovak ancestry or not. 
Fortunately, two Community Reporter board members were invited to the CSPS Hall in January for a traditional roast duck and dumplings dinner, as guests of Marit Kucera, the Honorary Consul of the Czech Republic for Minnesota, Iowa, North Dakota and South Dakota. Kucera has an office in the CSPS Hall, and during our visit she was kind enough to share some of the building's history as well as information about its ongoing programs and activities. So, now we'd like to share just a bit of what we learned and tell how neighbors can take advantage of this great resource. 
The CSPS Hall (the initials stand for Czech-Slovak Protective Society) was built in 1887 as the home of Sokol Minnesota, an organization that has its roots in a gymnastics group founded in Prague, Czechoslovakia, in 1862. The Sokol Minnesota website notes that the CSPS Hall is listed on the National Register of Historic Places and is "the longest serving national hall in Minnesota as well as the longest serving Czech-Slovak hall in continuous use in the United States." 
The CSPS Hall has witnessed over a century of West End history. In the February 2023 issue of the Community Reporter, regular contributor Tim Rumsey recalled visiting with neighbors on Michigan St. who grew up at a time when virtually the entire street was home to families of Czech ancestry. In fact, it's that long history that gives this portion of our neighborhood its nickname, "Little Bohemia." (Bohemia, in case you're fuzzy on your Eastern European geography, is a region that constitutes roughly the western half of the present-day Czech Republic.)  
Today, Sokol Minnesota helps preserve Czech and Slovak history and culture by offering a range of activities, including dinners featuring traditional cuisine, folk dancing for children and teenagers, craft and bake sales, online language classes, book clubs and presentations by actors, historians and others.   
In keeping with Sokol's origins, there are youth gymnastics programs offered for boys and girls as young as 4 years old. The gymnastics program also offers opportunities for young people to gain experience in coaching and earn college scholarships. The organization's Slovo newsletter recently highlighted three neighborhood high school graduates who became instructors. There is even a Kolo Sokol Bike Club, which organizes rides during the summer months that start from the CSPS Hall (See sokolmn.org/bike for information on rides coming up this summer).
Finally, the high-ceilinged second-floor auditorium, which once hosted famous Czech composer Antonin Dvorak, is available for rental and makes a beautiful venue for weddings and other events. With 2,500 square feet of floor space, it offers seating capacity for up to 300 people, plus a large stage for musicians. In addition, the upstairs hall is handicapped accessible via the elevator at the parking lot entrance.
This is just a small sample of what's available at the CSPS Hall. We'd be remiss, of course, if we didn't mention the annual Czech & Slovak Festival, which is held every September. But don't wait until then to get involved. Visit the sokolmn.org website to learn about upcoming events. As they say in Czech, Vítejte! Welcome!