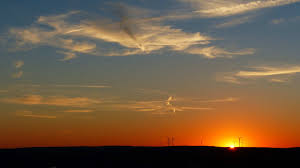 HALLE O'FALVEY  |  columnist
Dusk is a moment between day and night. Twilight is a time period of illumination that changes every day. Photographers and painters appreciate twilight, also, known as "the blue hour."
Sunsets are timely. January 1, it was 4:41 p.m. February 1, 5:20 p.m., March 1, 5:59 p.m. April 1 it will be 7:40 p.m. (Daylight Savings Time). The St. Patrick's Day sunset was so big, round, and colorful, like a giant peach, touching the horizon.
I have been lingering on my walks at sunset this winter. I find a place up on a rise that has trees, birds, and water. I start watching about 20 minutes prior and stay for another 20 minutes. There is a lot to see in-between. So, what happens when the sun goes below the horizon? As it slowly descends there are atmospheric changes. Civil Twilight is sunset. The sun's geometric center is six degrees below the horizon. We can watch as planets appear in the sky. Venus is predictably the first planet we see. Nautical Twilight is 12 degrees below the horizon; colors start to fall into the shadows and street lights are switched on. Astronomical Twilight is 18 degrees below the horizon; stars appear, as well as galaxies and nebulas, it is night.
I heard a flock of sandhill cranes fly over my house mid-March. When I looked up I saw six of them flying northwest. They are using the Upper Mississippi River Flyway as they move to their breeding grounds, often with a layover in Crex Meadows, Grantsburg, WI.
Still in April, the bluffs on the Mississippi River provide a close-up view of bald eagles, hawks and turkey vultures soaring at the tree tops. Schaar's Bluff, Carpenter Nature Center and Frontenac State Park are by far some of the best views. It is where you can almost touch their wings as they fly overhead. A visit to the National Eagle Center in Wabasha, MN is a great trip. A little bit further south to Winona is the Minnesota Marine Art Museum. Winona has great places for a brew and a meal.
The robins' spring song starts as the sun goes down. The killdeer will be calling out their names. The male red-winged blackbirds are trilling. And, bluebird sightings, particularly, at Carpenter Nature Center are divine. Take notice, look up, listen, and get out your binoculars. 
Email halleofalvey@gmail.com if you are interested in a birding trip.