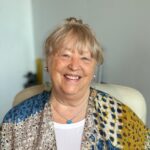 In 1977, the nonprofit St. Paul Arts Collective — or SPAC — was born. Diane McNew, SPAC's current board president, wants us all to recognize and remember the word collective.
"We are one of the oldest all inclusive art collectives in existence today in this country," says McNew, who glows with pride in SPAC's's achievements.
SPAC, host of the twice-yearly St. Paul Art Crawls, is an umbrella organization representing various artists, or groups of artists, working together to achieve common objectives such as creating, showcasing and archiving art, and sharing resources, such as space and staff, including volunteers.
SPAC helps artists to accomplish goals that are harder or impossible to accomplish on their own. McNew said, "SPAC wants to be a catalyst that helps, mentors, influences and promotes artists, professionally and personally, and in the process inspire them to enjoy their artistic journey."
McNew explained that SPAC originated from a group of artists showcasing their art in abandoned downtown buildings during the mid-1970s.
As Maria Gamble, an early founder, remarked: "Artists wanted to make a statement to the city that this is 'art inside art,' and that these buildings needed to be preserved."
Soon visual artists began moving into Lowertown's live/work artist lofts. Downtown began to come alive with galleries, coffee shops, restaurants and visual and performing art events. In the 1980s, real estate developers had begun to scoop up historic buildings in downtown, and artists began to be priced out of the livable work spaces.
"By 1983," McNew said, "SPAC established a Lowertown housing project to develop the Lowertown Lofts Artists Cooperative, a new model allowing artists to buy into their apartments. This endeavor received national attention as a model for how art and public and private interests can be joined through partnership."
The collaboration, with partners such as Artspace, Asset Development Services and the Department of Planning and Economic Development, spurred development of vacant warehouses into rental residences for artists.
By the early 1990s, SPAC hosted Minnesota's first art crawls, and Lowertown once again boomed with artist studios and live/work artist spaces.
Along with the region's many individual arts organizations, SPAC also works with City Council members and the Mayor's office to keep their outreach to artists alive and well in St. Paul. SPAC collaborates with downtown historic buildings, such as the Rossmoor, Northern Warehouse, the newly restored Union Depot and others to make the art crawls and other art events truly art inside art.
Within the SPAC's offices located in Lowertown, SPAC's goals are to find out what St. Paul's artist communities want and then to help support those needs and ideas.
"Bringing St. Paul's neighborhoods together enriches the city culturally, and creates connections throughout a variety of art," says McNew. "By doing this we will help inform the public about ethnicities whose cultural richness needs to become known."
McNew also chairs SPAC's Historic Preservation Committee as the organization comes up on its 50th-year celebration. Some of the anniversary plans being considered include an art exhibit at the Ramsey County Historical Society, showcasing vintage SPAC art posters and other image materials, along with its richly archived history.
The twice-yearly art crawls continue to be "…Cornerstones of St. Paul arts and culture," McNew says. "These events are so important to St. Paul's civic pride and public image."
I, and other artists I know, have benefited from the resources afforded by SPAC. I consider the individual artist membership fee in the organization to be an affordable investment in the future of St. Paul arts.
SPAC has seen numerous evolutions and rebirths in its 46-year history. As was the case with so many community organizations from 2020 to 2022, the COVID-19 pandemic reduced SPAC's membership, as well as its paid and volunteer staff. Along with its continued commitment to art crawls, the SPAC Board and other volunteers focus on revitalizing membership and sponsorship, developing new strategic plans and emphasizing a practice of equity and inclusion. McNew has coined the phrase, "fresh directions, good vibrations," as she helps to shape the future of the arts collective.
"We encourage St. Paulites interested in the arts to become patrons, sponsors, members and friends of the Collective. There are levels for everyone to show support," says McNewDiane.
The upcoming St. Paul Art Crawl takes place from October 6-8 at various locations in St. Paul. As one of the longest running art crawls in the USA, it also showcases dance, music and great food, in addition to its abundance of visual art. For more information about October's Art Crawl, visit stpaulartcollective.org.
For more information on becoming a SPAC volunteer or member, contact president@stpaulartcollective.org.
Margaret Kinney is a West End visual artist and serves on the board of The Community Reporter.
If you go: This year's fall St. Paul Art Crawl takes place in over two-dozen locations around the city from October 6-8. The West End will be hosting events at Dual Studios, Friedli Gallery, Great River Gallery and The Schmidt Artist Lofts.
Hours vary by location. Find the list of locations, hours, activities and vendors at stpaulartcollective.org/art-crawl-events.