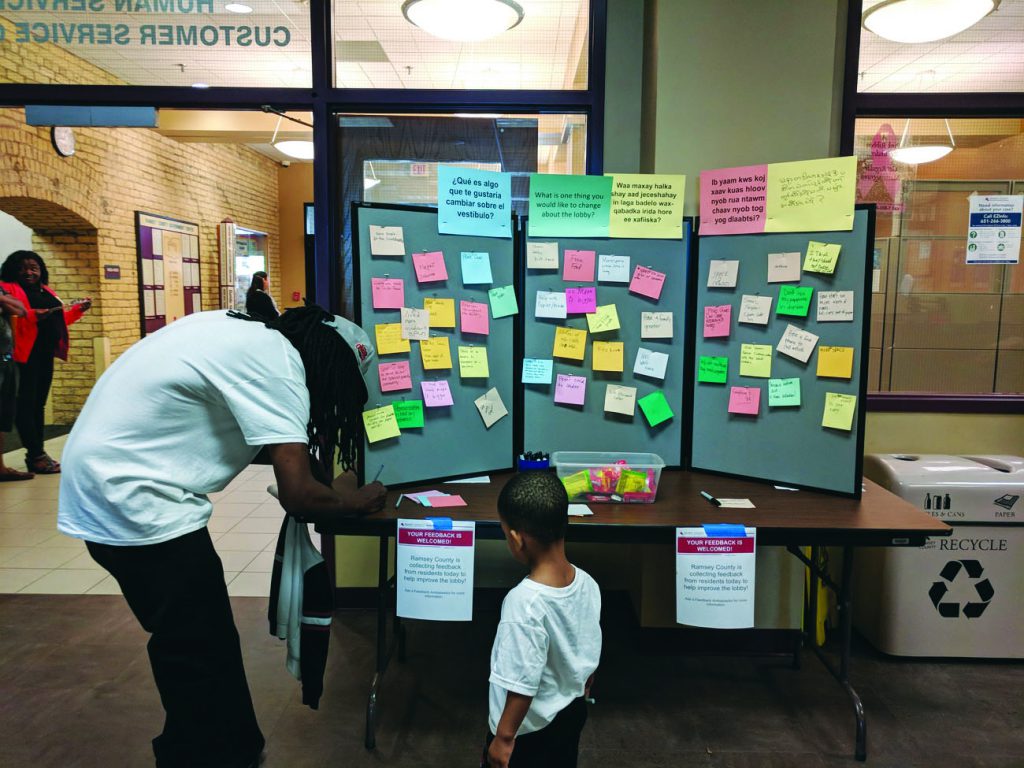 by Jerry Rothstein
The idea of "community engagement" has emerged in recent years to offer a new way for government agencies to interact with community members.
Instead of preparing plans and projects first, and then convening a "citizen's advisory group" to react, engagement invites resident involvement before proposals are formed, giving people a real sense that their ideas can help.
We talked with Kelly Zastrow, Program Specialist — Community Engagement in the Financial Assistance Service (FAS) department of Ramsey County, to get a better sense of how the idea is working. Some fascinating efforts in recent years have used these principles and emerged with very positive results.
A community engagement group was started in FAS in 2016, after a service performance evaluation showed that changes were needed in some areas. Staff recruited participants from among the clients to be involved in quarterly meetings. Ongoing outreach worked to assure good representation. Up to 30 people now attend these community meetings, with 20 being core members of the group and others coming and going.
With open discussion, it was clear that a real concern for clients was the very space and process needed to reach their workers. The lobby of the county offices at 160 Kellogg Blvd. felt unwelcoming and lacked guidance. As a result, a number of changes were made:
• Greeters now staff an information desk in the entrance of the building and work to welcome and guide all who enter.
• A self-service center has been added, including computers for residents' use and the ability to print documents, fax, make copies and get help completing forms.
• Most lobby windows are staffed with experienced Financial Workers with access to make case updates and answer client questions, decreasing the number of different workers a client must see as well as overall wait time.
• Express windows have been created, allowing business to be done more quickly for services like obtaining a photo ID.
• Signage has been added to help with general navigation and to indicate which services are available at the different windows.
The community engagement group continues giving feedback on a variety of projects, and is also involved in self-questioning. What roles can this group take on? A number of areas have been identified• Define the group's roles and responsibilities more completely.
• Determine how roles will be filled.
• Consider moving from quarterly to monthly meetings.
 • Continue working on defining purpose and values.
 • Develop more ways for the community to take ownership.
Early in the group's existence three community facilitators were identified. They help to plan the meetings. An evaluator has also been important in identifying elements to make the group successful.
The meetings have been planned to allow participants to be fully involved. Child care is provided by Ramsey County staff. Dinner is catered, and members receive a Target or Cub Foods gift card as an appreciation for their time and participation.
FAS continues to listen to the community, and seeks input on further improvements to the lobby and service delivery at 160 Kellogg Blvd. You may drop in one day and find yourself part of a Lobby Pop-Up, an event to gather direct feedback from residents on their lobby experience (see photo of feedback board above).
Meanwhile, County Manager Ryan O'Connor has determined that community participation and racial equity be part of all Requests for Board Action.