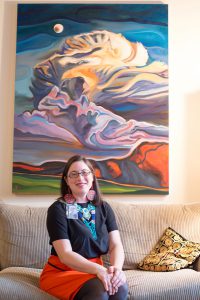 Artist Heather Friedli presents dreamlike and colorful abstract impressionist paintings for her traveling exhibition Minnesota Cloudscapes, opening May 4 at the Schmidt Artist Lofts in St. Paul.
Minnesota Cloudscapes is an effort to synthesize Friedli's love for and experience in the natural world, and wilderness adventure travel. Those experiences, being out in the world seeing the beauty and power of nature are represented in large scale paintings. Through the lens of her family's native Odawa and Mexican heritages, she shows what that means to be indigenous in this landscape. Southwest meets Minnesota, she paints with a passion for the land, looking around and internalizing the colors and expressing them on canvas. Working in a large scale is not only an expression of what she sees, but also becomes a physical dance with her painting. The movement and rhythms in these works are her own unique dance with the land around her.
Heather talked about her early life in art: "When I was a little girl, I liked to draw and paint all the time. I was so prolific, that at school I used to draw on the desktop and fill it up with images from my imagination of horses, monsters, plants, and landscapes. From an early age, I was entering and winning contests, and I even sold my first work as a young kiddo to one of my mom's friends. She still has that drawing to this day!
"I went to college at the Maryland Institute College of Art. Although I was a pre-declared painting major, I ended up majoring in fibers/textiles. I loved dying fabric — mixing colors, creating bright patterns, having fun with textures. I LOVE process oriented art! But what really drew me to the MICA fibers program were the incredibly strong, intelligent women who taught it. They wanted their students not only to create highly skilled quality work, but also to communicate what we had made with our audience.
"Following art school, I secluded myself in the wilderness for five years, teaching environmental education and guiding canoe trips in Northern Minnesota. In 2010, I embarked on my own wilderness adventure, through-hiking the Appalachian Trail in 6.5 months, 2,178 miles from Springer Mtn. Georgia, to Mt. Katahdin in Maine. This spiritual journey cleared away many of the cobwebs I has acquired in my soul, and I emerged from the wilderness bursting with newfound creative energy for painting the natural world. I have never felt as alive as I did during my time on the trail. That spiritual awakening continues to fuel my drive and passion for painting to this day."
Friedli is best known for her abstract impressionist oil paintings, depicting her family heritage and the land in which she lives. Many pieces are created in the context of her wilderness adventures; she often brings her paints outdoors to create work that shares her experience of immersion in the landscape. Within these works, Heather explores the spiritual world through the lens of culture and lived experience of place. Heather's work is creative, soulful, bold, and powerful.
An Opening Reception May 4, 6:30-9 p.m. in the Landmark Gallery at the Schmidt Artist Lofts. The show will then run through May 15. Daily hours are 10 a.m.-5 p.m., Monday through Saturday. Call Heather at 248-660-3771 for a private viewing.