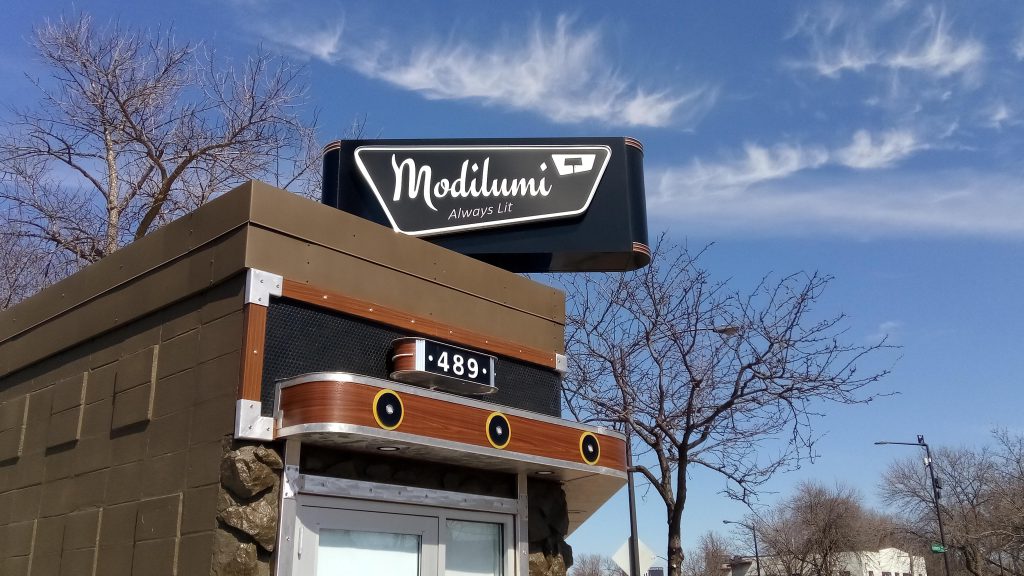 by Jerry Rothstein
Lex Winger worked for most of last year to renovate and renew the historic "triangle and stone" building at Goodrich and West Seventh, once the location of the infamous Raquel's Rap, a real stone in the neighborhood's side.
This year, he has been building inventory, so that when Modilumi opens in May he expects to have available 150 table lamps, 25 floor lamps, 50 pendants, 50 ceiling lamps and sconces, and some furniture as well.
His style derives from a love of the mid-century modern movement that influenced architecture, furniture and lighting design from the 1930s even to today.
Lex developed the skills he needed working for more than 30 years in screen printing, where his early interest in machinery and training in electronics allowed him to design specialized equipment for both printing and wire-bending (for lawn sign frames) that transferred well to the needs of a lighting artist. For example, he screen prints the lampshades and makes their frames from the wire.
When his staff at the printing business grew to the point where Lex had some free time, he stated making lamps and developing markets for them, with the intention of opening a retail location. He sells online and to MidModMen + Friends on University Avenue.
He looked for about a year in areas he felt would be positive for a niche business like his, and driving up West Seventh he saw the For Lease or Sale sign on "the funny little building." The owner happened to be there showing the space. Before Lex left that day he had a handshake agreement to buy the building.
Lex has managed to turn a difficult interior space into an inviting room that displays his lamps and furniture to great advantage. Form, fabric, color, pattern and glowing light pull the visitor in and start the wheels turning — which one shall I choose?!?
Information and online sales at Modilumi.com. A soft opening in May is planned with Friday and Saturday hours. Go to lex@modilumi.com or call 651-408-3018 for details.