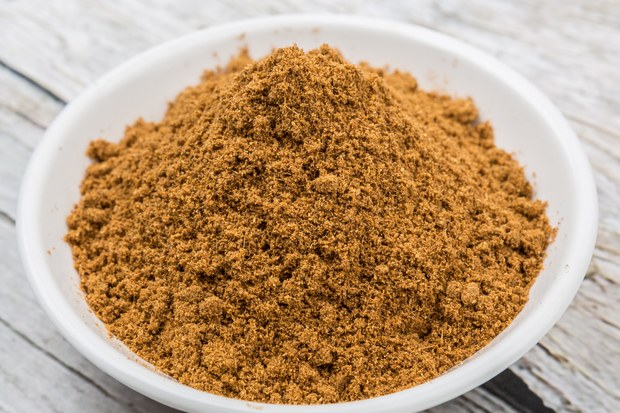 Recipe: 
Market List
• 2 cups raw (unsalted, unroasted) nuts (whole almonds, pecans, walnuts, cashews)
• Oil or butter  
• Garam masala
• Sugar  
• Kosher or sea salt
Warm Oven
Preheat your oven to 300°F. Toss 2 cups raw (unsalted and unroasted) nuts, such as whole almonds, pecans, walnuts, and/or cashews with 1 teaspoon oil or melted butter. Once the oven is hot, pour the nuts onto a large sheet pan, in a single layer, and roast for about 20 minutes.
Smelling Good
Remove the nuts from the oven and toss immediately with 1 tablespoon of garam masala, 1 teaspoon sugar, and 1 teaspoon kosher or sea salt.
Cupboard-Inspired by Kristin Hamaker
When I think about what to eat, each week and each day, I take a deep breath, and follow it up with a long pause. First, I become a kind of investigator, and shuffle through the cupboards and static corners of the fridge, with lightness and optimism. What can I resuscitate? What can I transform? What space can I make in my life?
For instance, on a particular weekday afternoon, a bag of naked almonds was poised in the rear of our cupboard. I turned on a low oven, grinned and rubbed them with a bit of olive oil, and roasted them for not very long before the house became aromatic. Even the cats lifted their noses as they traipsed by — very encouraging.
While the almonds transformed in the oven, I took down a book by Madhur Jaffrey, esteemed Indian food writer, and did a bit of reading up on garam masala, that sweet and savory Ayurvedic spice blend. I knew I had some of those spices in the cupboard that were near to retirement: cardamom, clove, cumin seed, and I wanted to find a holy use for them.
Alright then, I would sprinkle the almonds with it, perfect match. Wonderful way to warm and nourish, and a surprise snack for my daughter once off the bus. Jaffrey encouraged me to make my own blend, and offered her own recipe. That's what I did, grinding slowly and trans-like seeds and spices. All in lightness, with a bit of space returned to me.
CHEF'S NOTE
While reading up on garam masala, I noticed Madhur Jaffrey suggests that it's easy and ideal to make your own mix at home. This is her recipe, all to be ground in a spice or coffee grinder or mortar and pestle: 1 tablespoon cardamom seeds, 1 teaspoon whole cloves, 1 teaspoon black peppercorns, 1 teaspoon whole cumin seeds, 1/3 of a nutmeg, a 3-inch cinnamon stick (broken up).
NOTES & VARIATIONS
Beyond garam masala, consider other cupboard spices that would enliven roasted nuts, thinking of ground chili, curry powder, or just simply sea salt and black pepper.