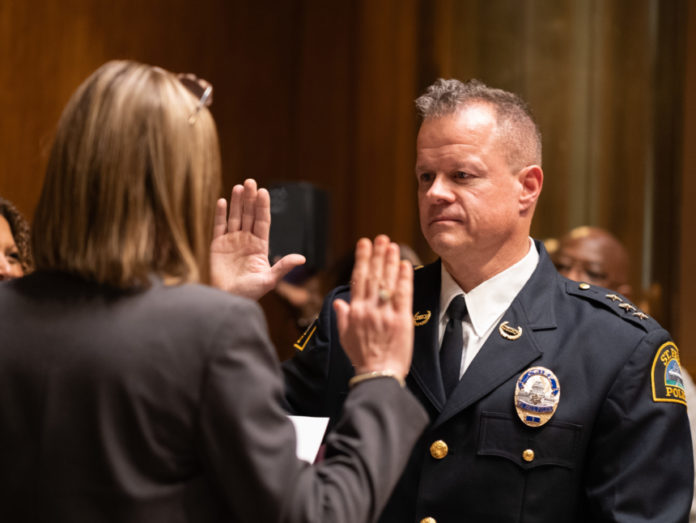 by Casey Ek
The Little Bohemia neighborhood gained a champion as one of its own, Axel Henry, ascended to the chief of police role for the City of St. Paul. The St. Paul City Council on Nov. 16 voted unanimously to name Henry as the city's next chief, validating Mayor Melvin Carter's nomination, which came Nov. 1.
To an overflowing crowd at the city council chambers, Henry took his oath of office. He will serve a six-year term.
A warm reception
Henry, who received a standing ovation upon his introduction, earned the praise of the city council members including Rebecca Noecker, who represents the neighborhood.
"To see you and know you are surrounded by and beloved by people who you are going to serve in our community, the women and men in the department and by family—it just makes me so proud to know that you are going to be our chief," Noecker told Henry. "It makes me especially proud that you're a resident of the great Ward 2."
Henry was born and raised in St. Paul. Son of a Macalester College professor, Henry was raised in the Macalester-Groveland area. He attended Groveland Park and Webster elementary schools, Murray Junior High and Central Senior High School before earning his bachelor's degree in business administration and accounting from the University of St. Thomas. He returned to UST to earn a master's degree in educational leadership and administration.
Henry became an officer for the Roseville Police Department in 1995. He joined the St. Paul Police Department in 1998 and eventually rose to the rank of commander for the Narcotics, Financial Intelligence and Human Trafficking Division.
Life in the neighborhood
Henry was enjoying a cigar on his porch of his Banfil Street home the evening of Nov. 1 with his partner Mikeya Griffin, the executive director of the Rondo Community Land Trust, when he began hearing people who he didn't know driving down the street offering their congratulations. This was just one reminder that the neighborhood is his rightful home.
Since he built his unique home around 2012, Henry has grown to appreciate the Little Bohemia neighborhood. Describing it as a "funky little neighborhood," Henry says there is a lot to love there.
"If I'm out there [cutting grass or shoveling] for more than 15 minutes, somebody stops and says hello or talks to you," Henry said. "It's a real neighborhood."
Henry settled in Little Bohemia after a months-long search for the right property on which to build an industrial-style home. He was eyeing an abandoned fire hall on the East Side, but when that fell through, he kept on the prowl. At one time, he knew where all the vacant lots in the city were, he said, until eventually he stumbled on what today is the site of the home he designed, and the rest, as they say, is history.
Since moving to the neighborhood, Henry has done what he can to stay plugged into local goings on. He tries to stay on top of what takes place at the Little Bohemia Neighborhood Association meetings, but between his police work and his time spent with the men's group at The Way Church, 550 West 7th, Henry has kept himself more than occupied.
The men's group, in fact, served as an early catalyst for Henry putting his name in the running for the vacant police chief role left by Todd Axtell, who retired in June. Henry said it was hard to convince some of the group's members that he was a cop. His tattoos and Air Jordans weren't the typical markers of a police officer, but now the group, who furnished a letter of support for Henry in the chief application process, is a staple of Henry's local life.
"It's been one of the most rewarding parts of being in the neighborhood," Henry said.